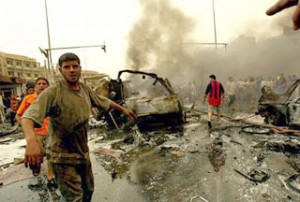 Car bombs have exploded near two ministries in the center of Iraqi capital Baghdad, leaving at least 75 people dead and 310 more injured.
The massive explosions came on Wednesday, including one that ripped through the walls of the foreign ministry.
The first blast sent columns of smoke into the nearby residential area of Salhiyeh outside the heavily-fortified 'Green Zone'.
A second car bomb detonated close to the finance ministry in the northern Baghdad neighborhood of Waziriyah, a police official told AFP on condition of anonymity.
Two mortars also were fired into the Green Zone where foreign embassies and government offices are located.
One of the projectiles went off outside the fortified area, a security official said.