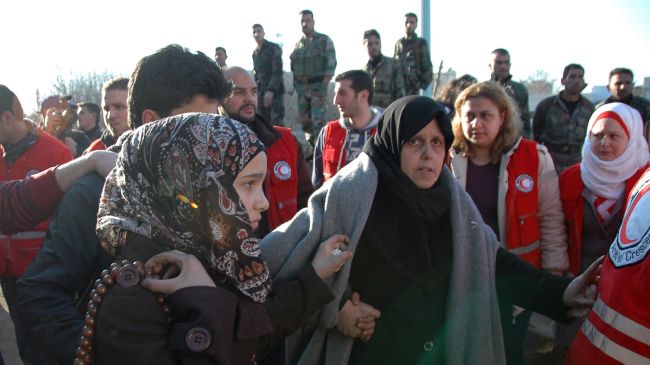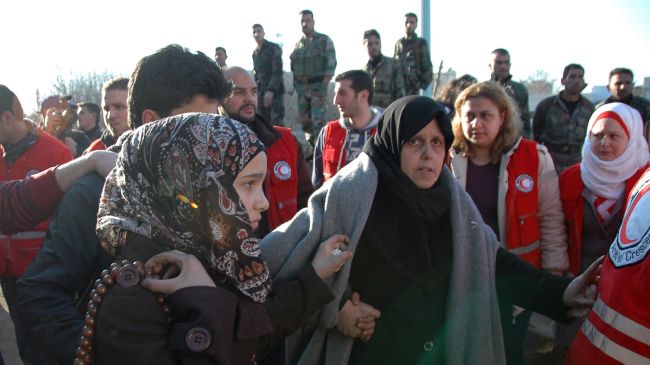 Dozens more people have been evacuated from the Syrian city of Homs amid concerns about the delivery of aid supplies.
On Tuesday, government troops allowed 111 men, aged between 16 and 54, to leave besieged districts of Homs after they were questioned and cleared of militant links.
The men were "cleared after they handed themselves over to the authorities," said Talal Barrazi, the governor of Homs.
The government has said that gunmen who surrender and renounce violence will be allowed to return to normal life.
The rescue operation is part of a UN-mediated ceasefire that began on Friday between government forces and foreign-backed militants to allow thousands of women, children and elderly men to leave militants-held parts of the city.
The deal also allows the entrance of humanitarian aid for civilians who choose to stay. The two sides had agreed on a pause in fighting from Friday to Sunday to implement the deal.
The evacuation was resumed on Monday after Damascus and the foreign-backed opposition agreed to extend the ceasefire until Wednesday.
The militants have been holding parts of Homs for more than a year, causing widespread hunger and suffering.
Since Friday, 1,151 civilians, mostly women, children and elderly men have been evacuated from the city.
Meanwhile, the Syrian Red Crescent has expressed concern over the delivery of relief supplies to Homs.
Syria has been gripped by deadly unrest since March 2011. According to reports, the Western powers and their regional allies — especially Qatar, Saudi Arabia, and Turkey — are supporting the militants operating inside Syria.
According to the United Nations, more than 100,000 people have been killed and millions displaced due to the violence.