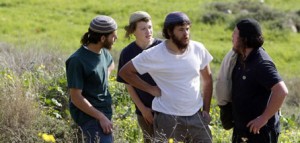 Dozens of extremist settlers stormed on Tuesday 9/2/2010, the Sheikh Jarrah neighborhood in the center of Jerusalem, accompanied by a delegation from the Interior Committee in the 'Knesset'; they visited the extremist Zionist groups living in the Palestinian houses that were recently confiscated in the neighborhood .
Under the cover of the Zionist forces, the extremists made a provocative tour in the neighborhood, during which they cursed the Jerusalemites and chanted slogans advocating the deportation and expulsion of Palestinians from the region.
In another context, the Zionist occupation forces kidnapped a Palestinian youth near the settlements of "Kfar Etzion", on Tuesday evening (9/2/2010), allegedly for possessing a knife.
Local sources said that the Zionist forces kidnapped the Palestinian youth Ahmed Taqatqa while he was going home in Beit fajjar southern Bethlehem.