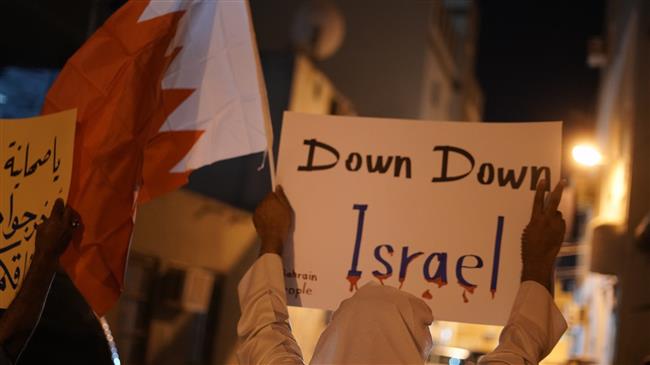 Dozens of people have taken to streets in Bahrain to express their outrage over signing of a joint communiqué between the Persian Gulf kingdom and Israel to formalize ties, after they reached a US-brokered normalization deal last month.
The protesters carried banners and held up placards late on Sunday in condemnation of the Manama regime's move and to protest a visit by an Israeli and US delegation to the country on Sunday evening.
The Israeli delegation, led by Israeli National Security Adviser Meir Ben-Shabbat, flew on an El Al Israel Airlines charter flight from Ben Gurion airport in Tel Aviv, to Bahrain and was accompanied by US Secretary of the Treasury Steven Mnuchin.
In addition to the joint communiqué on establishing diplomatic ties, Israel and Bahrain signed several MoUs, including on economic cooperation, an unnamed Israeli official said.
Sunday's meeting followed a September 15 ceremony at the White House when Israeli Prime Minister Benjamin Netanyahu signed US-brokered normalization deals with the Emirati Foreign Minister Sheikh Abdullah bin Zayed Al Nahyan and Bahrain's Foreign Minister Abdullatif bin Rashid al-Zayani.
The accord has drawn anger among Bahrainis at home and abroad.
Earlier this month, Israel's Mossad spy agency chief Yossi Cohen held talks in Bahrain with top security and intelligence officials on "topics of mutual interest," according to the state-run Bahrain News Agency.
Palestinians, who seek an independent state in the occupied West Bank and Gaza, with East Jerusalem al-Quds as its capital, view the normalization deals as betrayal of their cause.
Palestinian President Mahmoud Abbas protested the normalization deals with Israel, saying they will be fruitless as long as the United States and the Israeli regime do not recognize the rights of the Palestinian nation and refuse to resolve the issue of Palestinian refugees.
Palestine slams UAE delegation's al-Aqsa Mosque visit under Israeli protection
Meanwhile, Palestinian Prime Minister Mohammad Shtayyeh has criticized a visit by a delegation from the United Arab Emirates (UAE) to the sacred al-Aqsa Mosque in the occupied Jerusalem al-Quds.
"It is sad to see some Arab delegations entering the compound through the Israeli gate, while worshippers are denied access to it to perform their prayers," Shtayyeh said during the weekly cabinet meeting on Monday.
"Al-Aqsa Mosque shall be entered through the gate of its owners, not through the gate of the Israeli Occupation," he added.
On Sunday, an Emirati delegation visited Al-Aqsa Mosque under the protection of Israeli police forces.
A record posted on the Facebook page of the Palestinian Wadi Hilweh Information Center shows the moment the UAE delegation is dismissed after they entered the site.
In the footage, a Palestinian man challenges the UAE delegation about the normalization deal with Israel and asks them to leave immediately. After a short squabble, the group is seen leaving the mosque.
Shtayyeh also described the Bahraini-Israeli deal as a "free reward to the Israeli Occupation to encourage it to seize more Palestinian land and build more settlements."