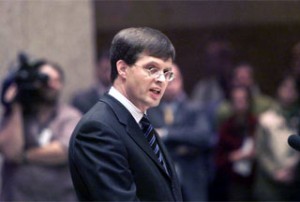 NATO says its troops will stay in Afghanistan as long as necessary despite the uncertain future of Dutch troops in the Central Asian nation.
"NATO will stay as long as necessary. That is a very clear commitment. The Dutch decision is for the Dutch to take, and we will not interfere with that," NATO spokesman James Appathurai told the BBC on Saturday.
"We have invested a lot in Afghanistan. We will continue to invest in Afghanistan because it is an investment in our own security," he added.
He made the remarks after the Dutch government collapsed over disagreements over whether to extend the country's military mission in Afghanistan.
Prime Minister Jan Peter Balkenende announced the news on Saturday following a 16-hour cabinet meeting.
Christian Democrat Balkenende was considering a NATO request to extend the deployment of Dutch troops in Afghanistan beyond 2010, but now a decision on the issue cannot be made until new elections are held.
The Labor party — a key member of the ruling center-left coalition — had opposed the extension and finally left the government over the dispute.
This was Balkenende's fourth government in eight years. His three previous cabinets also collapsed before their mandates expired.
Around 2000 Dutch troops are currently deployed in Afghanistan. The Netherlands' Afghan mission, which started in 2006, has already been extended by two years.
21 Dutch soldiers have been killed in Afghanistan.