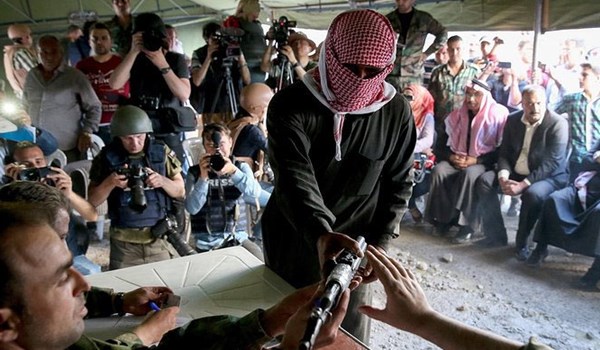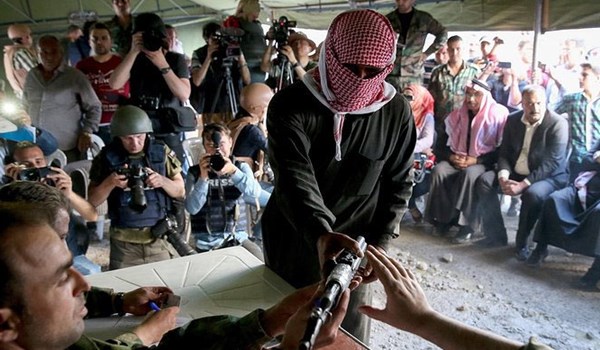 Jeish al-Islam militants delivered their advanced Israel and European-made weapons to the Syrian Army within the framework of an evacuation agreement in the town of Douma, a media outlet reported on Wednesday.
The Arabic-language website of Sputnik reported that a sum of 1,384 militants and their family members with a total number of 3,792 left Douma for the town of Jarabulus in Northeastern Aleppo on 85 buses.
It went on to say that the evacuation process will continue for the next two days due to logistical reasons, adding that Jeish al-Islam has handed over its light and semi-heavy arms to the army.
The Arabic Sputnik further said that Israeli sniper rifles and Belgian-made RPG rockets and PKC machineguns were among the arms.
People in the town of Douma on Tuesday took control of a number of warehouses used by Jeish al-Islam for hoarding food stuff after the terrorist group started retreating from the town under an evacuation plan agreed with the Syrian Army.
Civilians in Douma stormed several food warehouses of Jeish al-Islam and seized control over them.
Hundreds of tons of fuel and food stuff had been hoarded in the warehouses by Jeish al-Islam that refused to distribut them among people in Douma.
Local sources reported that hoarding food stuff was used as a pressure lever by Jeish al-Islam commanders to control civilians in militant-held regions in Eastern Ghouta.
In the meantime, the Russian Defense Ministry announced that a sum of 3,637 terrorists have left Douma via al-Wafedeen safe corridor in the last 24 hours.