Syria
Eastern Ghouta terrorists kill civilian in mortar attack on Damascus: TV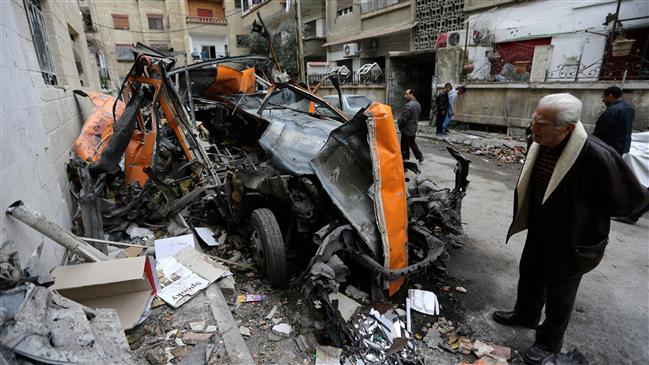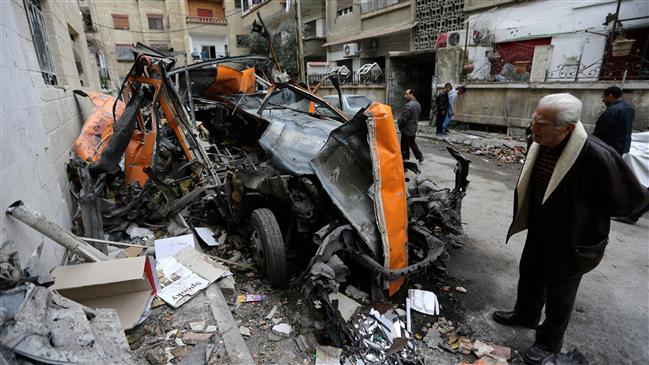 At least one Syrian civilian has been killed and nearly a dozen others sustained injuries in a fresh wave of attacks launched by militants holed up in the Eastern Ghouta against the capital Damascus.
According to a report by the state television on Saturday, a civilian was killed in shooting in al-Majd district in the capital's suburbs, and four others were injured in Damascus' Mezzeh 86 neighborhood after they came under mortar fire.
The report added that seven other civilians were also wounded after militants fired at least 54 shells at Hamsi Street in Jermana district south of Damascus.
Earlier, rocket attacks caused damage across the capital and left some casualties. The attacks come only one day after the terrorists launched scores of mortars and rockets at residential neighborhoods across Damascus.
Eastern Ghouta near Damascus has witnessed renewed violence in the past few days, where terrorists have mounted repeated mortar attacks on the Syrian capital in the face of an imminent rout. Western powers, however, blame the Syrian government and Russia for the crisis.
The Syrian capital has seen a dramatic rise in deadly attacks over the past several days. The escalating violence comes amid international efforts to end clashes between government forces and militants in Eastern Ghouta.
Two weeks ago, Sweden and Kuwait, two non-permanent members of the UN Security Council, proposed a month-long ceasefire measure in Syria to allow deliveries of humanitarian aid and medical evacuations. The world body is yet to vote on the measure.
Russia has proposed amendments to the draft resolution to include guarantees that the anti-Damascus militants would honor the ceasefire, warning that the would-be truce should not cover the Takfiri terrorist groups of Daesh and Jabhat Fateh al-Sham, formerly known as al-Nusra Front, as well as other militant outfits that are shelling civilians in Syria's militant-held Eastern Ghouta.
On Thursday, Russian Foreign Minister Sergei Lavrov said the Ghouta-based militants had rejected Russia's offer to "evacuate peacefully" and that they were using civilians there as "human shields."
Meanwhile, Russian Ambassador to the UN Vassily Nebenzia accused mainstream media of leading a "campaign of disinformation," spearheaded by the so-called White Helmets group that is complicating the situation in Eastern Ghouta.
"The impression from media reports is that Eastern Ghouta is composed exclusively of hospitals, and that the government is spending all its time fighting against them. This is a well-known technique in an information war. What we do know for a fact is that militants place their strongholds inside hospitals and schools. For some reasons the inconvenient truth is not widely advertised," he added.
The so-called Syrian Observatory for Human Rights, a pro-opposition monitoring group, has already claimed that at least 250 civilians had been killed in the attacks in the enclave, where an estimated 400,000 people live.
Russia has been lending aerial support to Syria's counter-terrorism operations since September 2015.