Syria
EC chairman voices opposition to foreign intervention in Syria affairs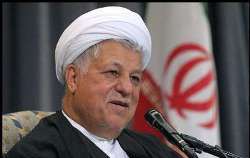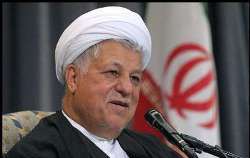 Expediency Council Chairman Ayatollah Akbar Hashemi Rafsanjani on Wednesday stressed the need for foreigners not to interfere in Syria's affaires.
In a meeting with Turkish Ambassador to Tehran Umit Yardim here on Wednesday, Rafsanjani said people in any country are entitled to decide their fate.
Calling for expansion of Tehran-Ankara cooperation and relations, Ayatollah Rafsanjani said bilateral cooperation have been growing since the end of the 8-year war imposed on Iran by former Iraqi regime.
He said that mutual cooperation have expanded thanks to the good will of both Iran and Turkey.
Touching on the G8 and the Iran-Turkey-Syria trio formed for cooperation with regards to developments in Iraq, he said popular and revolutionary developments are taking place in the region and this necessitate cooperation among regional countries, especially Iran and Turkey.
Elsewhere in his remarks, Rafsanjani said Iran and Turkey are two important centers for regional cooperation and any disruption of such cooperation would serve the Zionist regime's sinister goals in violating rights of the Muslim Palestinian nation.
He went on to say that difference in the stances of Tehran and Ankara should not hamper mutual cooperation.
Touching on the arrogant powers' economic war on Iran, Rafsanjani said using each other's capacities would help promote peace, security and progress in the world of Islam and the region.
The Turkish diplomat, for his part, referred to age-old historical and close ties between Tehran and Ankara and said difference of opinion between Iran and Turkey on regional issues is natural but what is important is the two countries' efforts to find new ways of safeguarding and promoting mutual interests.
He said Syria's future lies in hands of the country's nation.
He stressed materialization of rights and demands of the Syrian nation and helping them decide their future.
The Islamic Republic of Iran and Turkey, as the main players, can play an important role in this connection.
He said terrorism is one of the main problems of the region, as Iran and Turkey are suffering from it. Regional developments and border events have necessitated cooperation between Tehran and Ankara in the campaign against terrorism, he concluded.