World News
Ecuadoreans protest against president Morreno, call for Assange release
Ecuadoreans have taken to the streets in the capital Quito against the arrest of WikiLeaks founder Julian Assange in the country's embassy in London.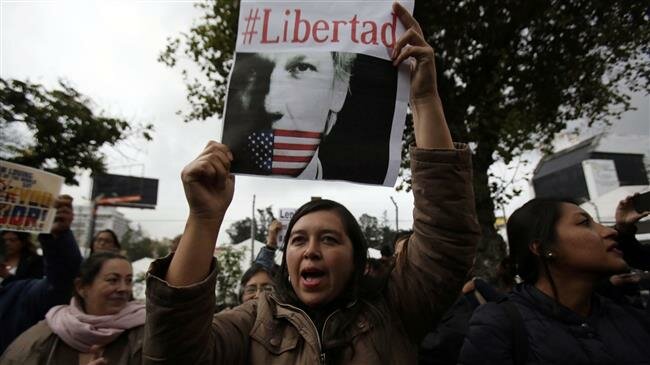 The arrest came after Quito suddenly revoked his seven-year asylum and handed him over to British authorities.
Police were invited into the embassy by Ecuador's ambassador on Thursday, dragging Assange out of the building, where he had been holed up for years in fear of extradition to the US.
Protesters gathered outside Ecuador's foreign ministry building on Thursday, chanting against President Lenin Moreno and calling for Assange's release.
"As Ecuadorean citizens we support Julian Assange, a man who has given his life to the truth, a man who has sacrificed himself and his family to tell the truth to the world. It was a source of pride that he was Ecuadorean," said a protester.
Assange was granted asylum by Ecuador's former president Rafael Correa, after he took refuge in the country's embassy in 2012. President Moreno, however, revoked the asylum and allowed police to arrest him.
Moreno on Thursday called Assange a "spoiled brat" and "miserable hacker", saying that his country "will be more careful in giving asylum to people who are really worth it."