Iran
Technology
Efficient Waterproof Nano Products on Display at Iran Nano Exhibition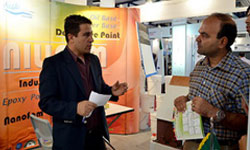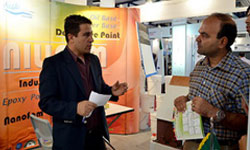 Sealing and protecting a wide range of buildings and industrial surfaces has always been a major challenge for constructors, and now the problem has been solved by Iran's Nili Fam Company which has displayed a water-proof nano-product in the Iran 2012 Nano Expo in Tehran.
The water-based liquid was presented by the Iranian company in the Building Zone of the Fifth Iran Nano Festival and Exhibition.
Since the viscosity of the product is very similar to that of water, it can easily diffuse into capillary pores into which polymeric or elastomeric materials cannot penetrate.
The use of compounds based on nanotechnology results in an increase in efficiency and longevity but it causes the least changes in the appearance. In fact, water in the sub-layers can evaporate due to the presence of negative capillary pressure while a preventive layer against the diffusion of water is formed on the surface. This mechanism prevents the formation of crack, swelling or distortion on the surface.
Given the fact that nanoparticles do not form polymeric chains, surfaces that are modified by this product will have higher durability to the extent that they will preserve up to 95% of their activity after eight years. The abovementioned surfaces have higher resistance against ultra violet ray, and therefore, they will not become yellowish.
Among other participants companies in the Building Zone of Iran Nano 2012, mention can be made of Asia Decorative Crack Paints, Sharif Solar, Kaveh Glass, Pishgaman Fanavari Asia, and Reef Iran Chemical Industries Complex.