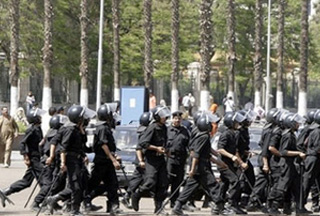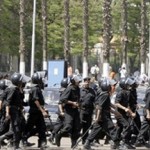 A Lebanese national, in Cairo's custody for allegedly plotting terror attacks, has accused Egyptian prison authorities of "brutal torture."
Mohammed Mansur, who is on trial with 25 other defendants, said during a court session in Cairo that he and all the other inmates had been "brutally tortured" since their arrest.
The defendants are charged with "conspiracy to murder, spying for a foreign organization with intent of conducting terrorist attacks and weapons possession."
"All the detainees have been tortured. I lost hearing in my right ear because of the constant torture. I was electrocuted and beaten," AFP quoted him as saying on Wednesday.
Egyptian officials say the men — arrested between late last year and January — were plotting attacks against ships in the Suez Canal and tourist sites.
Cairo also claims that the Lebanese resistance movement Hezbollah recruited the group for acts of terror in the country, and sending operatives to the Gaza Strip to help resistance groups fight Israel.
The men have vehemently denied the charges. Hezbollah has also dismissed the allegations and described them as a politically-motivated campaign against the movement.