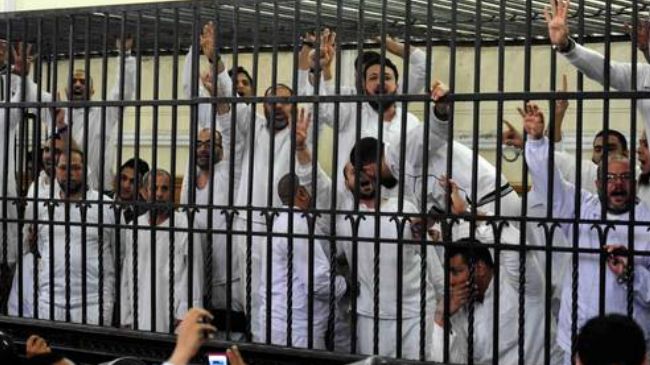 Egyptian courts have sentenced more than 160 supporters of the Muslim Brotherhood to ten to fifteen years in prison.
On Sunday, a court handed lengthy jail terms to 127 Muslim Brotherhood supporters in Cairo.
The defendants were each handed 10-year jail terms for attending violent protests and on charges of joining a "terrorist" group.
During the session, the defendants chanted, "Down, down with military rule."
Meanwhile another court in Cairo sentenced 38 Brotherhood supporters to 15 years in prison over allegations of trying to set off bombs during a protest at a metro station last year.
Numerous death sentences and lengthy jail terms handed to Brotherhood supporters and leaders have caused public outcry both in Egypt and in the international community.
Egypt has started a harsh crackdown on Morsi's supporters since he was ousted by the military last July. Egypt is continuing with its crackdown on anti-government protesters ahead of the upcoming presidential vote.
The latest developments come days ahead of Egypt's presidential elections which are scheduled to be held on May 26 and 27. The former Egyptian army chief and current presidential candidate, Abdel Fattah el-Sisi's only opponent in the race is the leftist politician, Hamdeen Sabahi.
Sisi's victory would place Egypt's presidency back in the hands of a top military official just three years after Egyptians rose up against former dictator, Hosni Mubarak, an air force officer who ruled Egypt for nearly three decades.