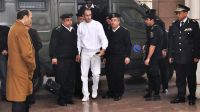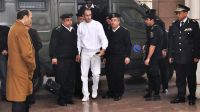 Family of former Egyptian dictator Hosni Mubarak still own assets on British soil nearly two years after the British government was supposed to have confiscated all their possessions.
According to Egypt's investment bank, EFG Hermes, Hosni Mubarak's son, Gamal Mubarak, owns 17.5 percent of an investment fund registered in the British Virgin Islands.
EFG Hermes said Gamal Mubarak, who is on trial in Egypt for corruption charges, earned around $880,000 annually from the fund.
The revelation seriously challenges the British government's stated interest in ensuring Mubarak family are prosecuted and their illegal assets are returned to Egyptians especially in the context of disclosures six months ago that the dictator's former aides also have millions of pounds worth of unfrozen assets on the British mainland.
This comes as Egyptian officials threatened to sue Britain for breaching international anti-corruption law back in September after the revelations about the unfrozen Mubarak-regime officials' assets.
London delayed an asset freeze that was part of a Europe-wide seizure of Mubarak regime's assets by 37 days after Mubarak was ousted in February 2011.
Part of the revelations made by a joint six-month investigation by The Guardian, BBC Arabic and the London-based Al Hayat newspaper showed one of the officials on the sanctions list, Naglaa al-Ghazaerly, wife of the former Egyptian housing minister, was able to register a company in her own name in London in November 2011, seven months after an order was given to freeze her assets.