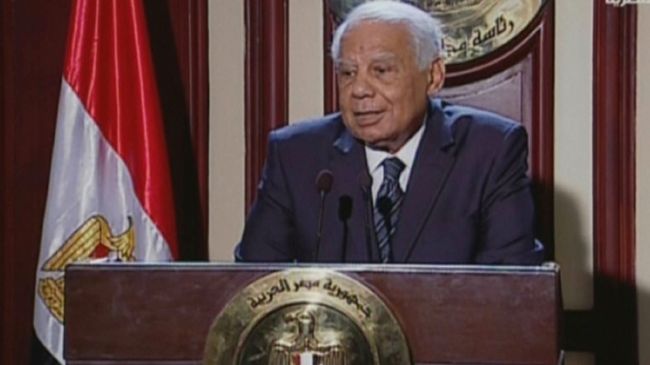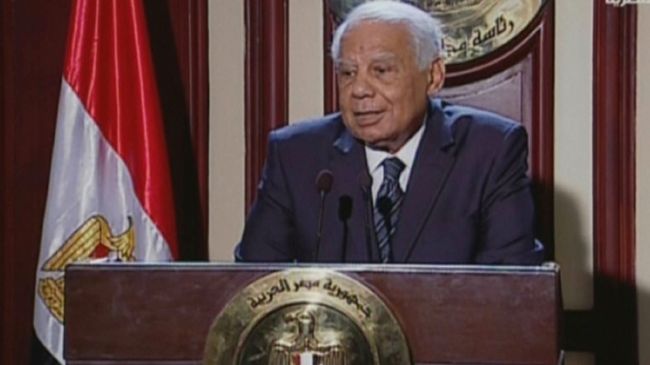 Egypt's military-backed government has resigned amid the country's growing economic problems and a presidential poll that will likely bring army chief Abdel Fattah el-Sisi to power.
The cabinet of Egyptian Prime Minister Hazem El-Beblawi announced the decision on Monday.
"The cabinet decided in light of the current situation that the country is going through…to submit its resignation to Adly Mansour, the interim president," the cabinet said.
Outgoing Housing Minister Ibrahim Mihlib is expected to succeed Beblawi as the new prime minister.
The surprise resignation came amid a host of strikes over the handling of the economy, including a demonstration by public transport workers and garbage collectors.
The military-backed government was sworn-in on July 16, after a military coup toppled President Mohamed Morsi, suspended the constitution, and dissolved the parliament.
It also appointed the head of the Supreme Constitutional Court, Adly Mahmoud Mansour, as the interim president.
The interim government has been cracking down on the Muslim Brotherhood by banning the group. Thousands of its members have been also arrested.
Experts say field marshal Sisi is expected to sweep the upcoming presidential vote due to a lack of alternatives, as well as full support from Egypt's media including the lack of any criticism of the general in the country.
The army chief, who is the defense minister and first deputy prime minister in the outgoing cabinet, must resign from the government and army first before officially announcing his nomination.
The demonstrators, meanwhile, have been demanding Morsi's reinstatement and calling for the release of Brotherhood activists arrested by police.
Morsi's ouster has sparked violent protests in which hundreds of Egyptians were killed.