Egypt
Egypt- Muslim Brotherhood Calls for "Uprising" as Mansour Vowed Fresh Elections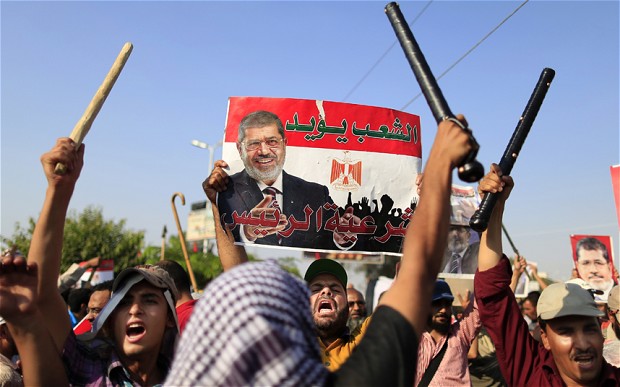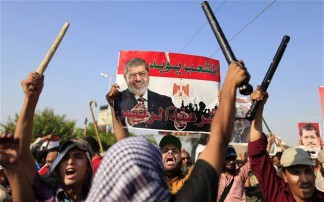 Egypt's interim leader vowed fresh elections by early next year as an angry Muslim Brotherhood called for an "uprising" against the new order.
Interim President Adly Mansour issued a decree late Monday that set the parameters for a referendum on a revised constitution within about 41 / 2 months, parliamentary elections within about six months and presidential elections after that.
Mansour will announce the date for presidential elections after the new parliament convenes, according to a draft of the 33-article decree published by the official MENA news agency.
A senior Muslim Brotherhood official denounced the decree. "A constitutional decree by a man appointed by putchists… brings the country back to square one," said Essam al-Erian in a Facebook posting.
Mohammad Mursi's Muslim Brotherhood, which has led demonstrations against Wednesday's military overthrow of the MB leader, called for an "uprising," saying troops and police "massacred" its supporters during dawn prayers in Cairo Monday.
The carnage outside the elite Republican Guards' headquarters has further delayed Mansour's efforts to name a new prime minister, as the loose opposition coalition that backed Mursi's ouster lost a key Islamist party.
This comes as a Health Ministry spokeswoman said 51 people were killed and 435 were wounded in the shootings. Military officials said that they responded after being fired upon by protesters and that one soldier was killed and 42 were injured.
The military blamed "terrorists", while witnesses, including Brotherhood supporters at the scene, said security forces fired only warning shots and tear gas, and that "thugs" in civilian clothes carried out the shootings. Mansour, a top judge before his appointment as interim president, had ordered a judicial commission of inquiry into the killings.
The army had warned it would not allow anyone to threaten national security, urging protesters to stay away from military installations and to end their sit-ins.
International Condemnations
The United States called on the Egyptian army to exercise "maximum restraint", while also condemning "explicit" Brotherhood calls to violence.
White House spokesman Jay Carney said an immediate cut-off in military aid to Egypt "would not be in our best interests", when asked whether Washington was reconsidering the more than $1 billion–mostly military aid–it provides annually.
UN Secretary-General Ban Ki-moon condemned the latest wave of bloodshed in Egypt, calling for an independent inquiry.
International condemnation of Monday's bloodshed poured in, with Germany expressing "shock" at the violence, Turkey calling it an attack on "humanity" and Brotherhood backer Qatar urging "self-restraint" and "unity".