Egypt
Egypt Nour Party quits new government talks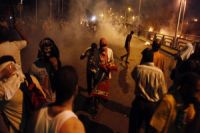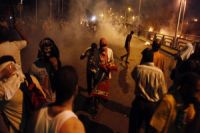 Egypt's Nour Party says it has withdrawn from talks over the new government in response to the 'massacre' of protesters at the Republican Guard barracks in the capital, Cairo.
The Salafist party's spokesman Nadder Bakkar said Monday: "We have decided to withdraw immediately from all negotiations in response to the massacre outside the Republican Guard" headquarters.
The decision was made after at least 34 supporters of Egypt's ousted President Mohamed Morsi were killed and dozens more wounded by the security forces during protests in Cairo on Monday.
Egypt's Muslim Brotherhood said that snipers targeted protesters attending a sit-in outside the Republican Guard building.
Meanwhile, Egypt's Freedom and Justice Party (FJP) estimates that more than 50 people were killed in violence.
Witnesses say Egyptian troops used live ammunition to disperse the protesters in Nasr City District, eastern Cairo.
Anti-Morsi demonstrators gathered in Cairo's iconic Liberation Square and around the presidential palace.
Opponents of the ousted president also took to the streets in Alexandria on the coast of the Mediterranean Sea and in other major cities across the country.
On July 3, General Sisi announced that President Morsi was no longer in office.
The chief justice of Egypt's Supreme Constitutional Court, Adli Mansour, was sworn in as interim president of Egypt on July 4.