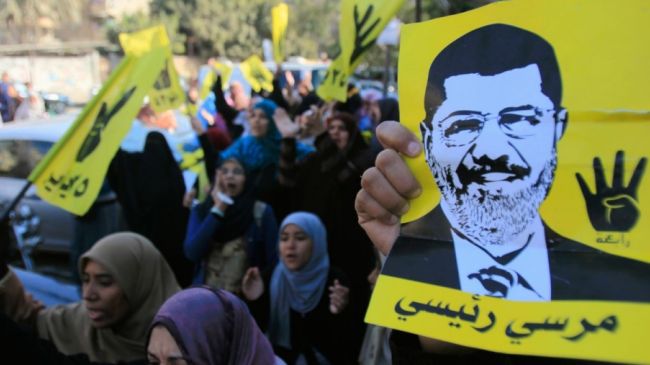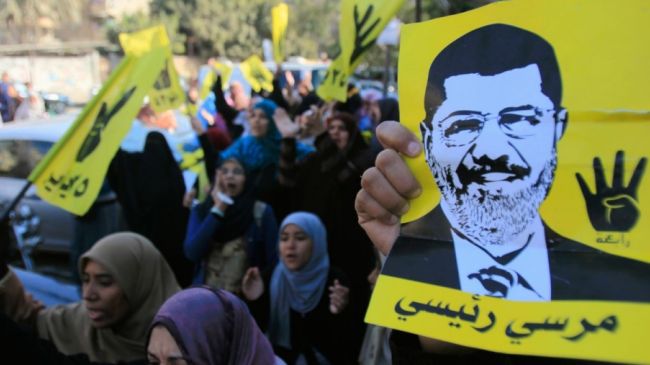 The second court hearing of the ousted Egyptian President Mohamed Morsi is due to start within hours in the capital Cairo under high security measures, reports say.
Egyptian first democratically elected president, who was toppled by a military coup last July, is to stand trial along with fourteen other Muslim Brotherhood figures for inciting killing of protesters outside the presidential palace in December 2012. Morsi is also being charged with espionage and accused of planning prison breaks.
The trial against the ousted president officially started in early November, but was quickly adjourned until January.
The country's security forces are on high alert for the court appearance, as the anti-coup alliance has called for Morsi's supporters to gather "in imposing marches" on Wednesday at the beginning of the trial.
"The coup has collapsed. We are waiting for final decisive victory… Mass in imposing marches on Wednesday, January 8, to reject the farce of the century and to support the steadfastness of the President, in all cities across the country," the coalition said in a statement on Tuesday.
"Let us also gather at the venue of the trial, under the banner 'The People defend Their President'," the statement said.
The trial comes as human rights groups have dismissed some of the allegations against Morsi as absurd.
Egyptian officials have pledged to give him a fair trial, though, lawyers for the ousted president say they have been denied access to him, following an announcement by the Interior Ministry.
On January 6, the Egyptian Interior Ministry said Morsi would not be allowed to have any visitors for a one-month period, starting on January 2.
Supporters and members of the Muslim Brotherhood have been facing heavy crackdown by the military and its appointed interim government, since the ouster of Mohamed Morsi.
On December 24, the Egyptian government designated the Brotherhood as a "terrorist organization," accusing the group of being behind a blast at a police headquarters in the Nile Delta city of Mansoura, where sixteen people were killed.