Egypt
Egypt police attack al-Azhar students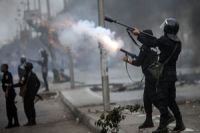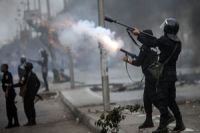 Egyptian security forces have clashed with students outside an al-Azhar University dormitory in eastern Cairo.
On Friday, police fired tear gas at students protesting against the presidential candidacy of the former defense minister, Abdel Fattah el-Sisi.
The students also called for the release of all the detained students and the dismissal of police guards from universities.
Al-Azhar has seen almost daily anti-government demonstrations that frequently turn violent since the military ousted President Mohamed Morsi last year.
The latest protest rallies come after Sisi officially submitted his bid to run for president.
Sisi led the overthrow of Morsi, suspended the constitution and dissolved the parliament in July last year. He is also accused of leading a severe crackdown against the supporters of Morsi and the Muslim Brotherhood.
Meanwhile, at least two people were killed and dozens injured during anti-government demonstrations in several cities across the country.
A woman was killed in the city of Fayoum, south of the capital Cairo. She was shot in the stomach with a birdshot pellet during clashes with the security forces. The other victim was a man who died after inhaling tear gas in Cairo.
Several international bodies and the United Nations Human Rights Council have expressed concern over the Egyptian security forces' heavy-handed crackdown and the killing of peaceful anti-government protesters.
Rights groups say at least 1,400 people have been killed in the violence since Morsi's ouster, "most of them due to excessive force used by security forces."