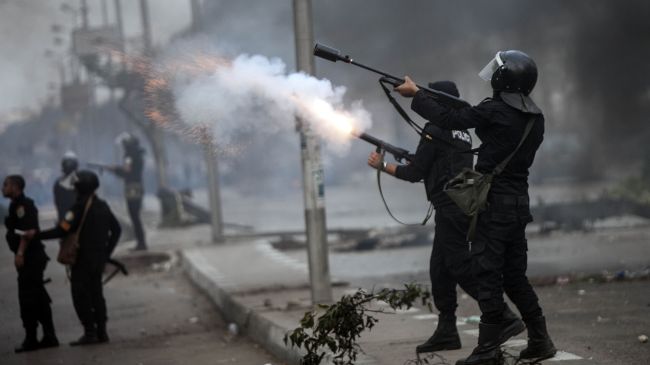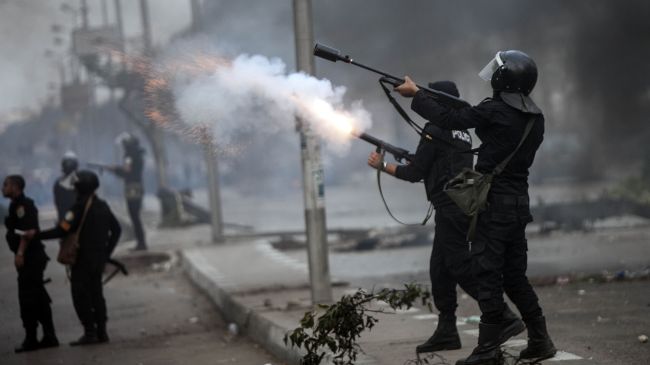 Riot police in Egypt's second largest city of Alexandria have fired tear gas at a large crowd of protesters demanding the abolition of a new law that restricts demonstrations.
The police fired tear gas at protesters and chased with them in vehicles and on foot on Monday.
The mass rally comes despite warnings from authorities of a firm response to any unauthorized protests.
The law has sparked a new wave of protests by supporters of ousted president, Mohammad Morsi, who accuse the military-backed government of giving the police and military a free hand to commit rights violations.
The angry protesters demand the abolition of the law that imposes fines and jail terms on violators. They say the law aims to silence dissent ahead of a nationwide referendum on the amended constitution expected in January.
The protesters are furious about the sentencing of several Alexandrian female protesters to eleven years in jail.
Meanwhile, an anti-government alliance strongly condemned the arrest of the head of the defense team in the case of Alexandria's female protesters. The National Alliance for the Defense of Legitimacy said the arrest of Ahmad al-Hamrawy is only aimed at preventing the women protesters from having a fair trial.
An Egyptian court is set to hear an appeal in the case of 14 female protesters in the coming days.
Last week, the women were handed eleven years in jail each on charges of being involved in clashes between supporters and opponents of Morsi in October. The verdict has caused public outcry both in Egypt and abroad.
Tensions in Egypt have been running high since the first democratically-elected president was ousted on July 3. Hundreds have lost their lives in the ensuing violence across the country.