Egypt
Egypt police open fire on anti-govt. protesters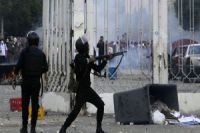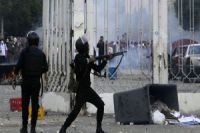 Egyptian security forces have fired live rounds at anti-government protesters marching in the northern province of Gharbia.
According to Press TV, the incident took place during a protest ahead of Friday prayers in the Qotour area of the Nile Delta. There were no immediate reports of casualties.
Egypt's Anti-coup Alliance had called for mass rallies to condemn the interim government's crackdown on such rallies.
Protesters also expressed outrage over reports that Egypt's army chief, Field Marshal Abdel Fattah el-Sisi, plans to run for president.
Last December, Egypt's military-backed interim government labeled the Muslim Brotherhood a terrorist organization.
Thousands of members of the Muslim Brotherhood and its supporters have been arrested and accused of inciting unrest in the North African country.