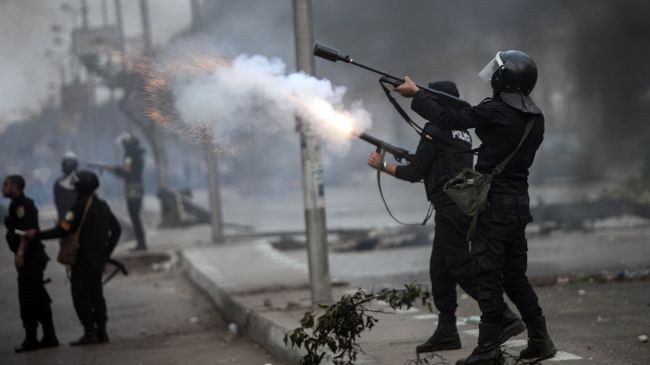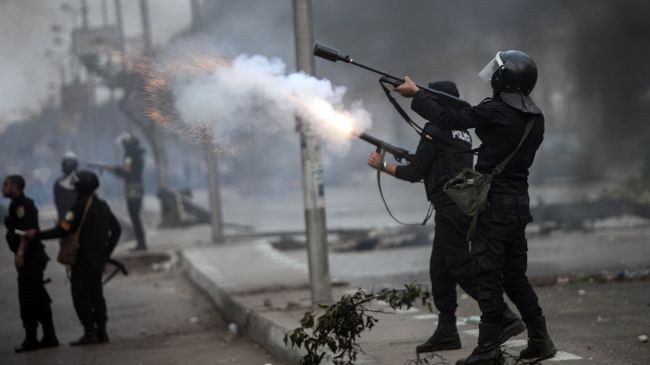 At least six people have been killed after Egyptian police opened fire on protesters marking the first anniversary of the mass killing of the supporters of former president, Mohamed Morsi, in Cairo.
Police forces also wounded dozens of others across the country on Thursday.
The rallies were called by pro-Morsi Anti-Coup Alliance under the slogan "We demand retribution."
On August 14, 2013, after then army chief and now President Abdel Fattah el-Sisi ousted Egypt's first freely elected president, the security forces launched a brutal crackdown on thousands of the Morsi supporters at protest camps in Rabaa al-Adawiya and Nahda squares, leaving hundreds of people dead.
Human Rights Watch (HRW) said in a report released on Tuesday that the assault was "one of the largest killings of demonstrators in a single day in recent history."
HRW said its report, titled "All According to Plan: The Rabaa Massacre and Mass Killings of Protesters in Egypt," identifies Interior Minister Mohamed Ibrahim, Sisi, and top security official, Medhat Menshawy, as senior leaders who should face proceedings for the deadly crackdown at Rabaa al-Adawiya Square.
The New York-based international nongovernmental organization added that at least 817 demonstrators died due to the heavy-handed crackdown in Rabaa al-Adawiya.
"An international investigation and prosecutions of those implicated are needed…. States should further suspend military and law enforcement aid to Egypt until it adopts measures to end its serious rights violations," HRW said.
Since Morsi's ouster on July 3 last year, Egypt has been the scene of anti-government protests with continuous clashes between security forces and Morsi's supporters.
Rights groups say the government crackdown on the supporters of Morsi has left over 1,400 people dead, and at least 15,000 have been jailed. Hundreds of the former president's supporters have so far been sentenced to death or long prison terms.