Egypt
Egypt premiership still unassigned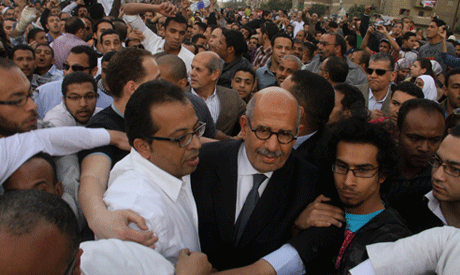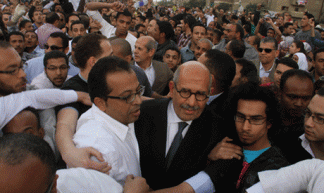 "Consultations are still under way and the post of the prime minister is still vacant."
These were the words Ahmed El-Moslemani, the newly-appointed media advisor to Egypt's interim president, offered to a press conference at the presidential palace Saturday night, where the press corps was gathered expecting a briefing from Mohamed ElBaradei, announced earlier as having been assigned Egypt's premiership.
The press conference took place two hours later than schedule, starting at 10pm Cairo local time, and was attended by neither ElBaradei or Adly Mansour, the interim president of Egypt who took the oath Thursday, within 24 hours of the ouster of former president Mohamed Morsi.
Mansour and ElBaradei were officially scheduled to make a brief joint appearance. ElBaradei was then to give a press conference on his vision for the tough interim phase that Egypt faces until a new president is elected.
With a cool smile and measured words, Al-Moslemani insisted that ElBaradei is a strong contender who was received during the day by Mansour and that he could end up being assigned the premiership, but that there were other options — which he did not share — that were being considered.
Al-Moslemani subtly pushed aside suggestions that ElBaradei's nomination had been rejected by the Salafist El-Nour Party, a former ally of ousted president Morsi that eventually turned its back on the Muslim Brotherhood and joined the opposition. ElBaradei is the general coordinator of the National Salvation Front (NSF), the wide umbrella of anti-Morsi opposition groups. "There was no official nomination made to be declined," Al-Moslemani said. He also countered news that ElBaradei had reconsidered on the same basis.
"We are passing through a very sensitive political phase and we are aiming to put together a government that will really be in charge of managing a crisis situation [on the economic and socio-political fronts] and the presidency is keen to have an inclusive approach in the composition of this government," Al-Moslemani told the press conference.
He added that there will be no quota-based approach to the composition of the government, which he said "should be expected soon, in the wake of the announcement of the prime minister's name shortly."
While not excluding the possibility of ElBaradei taking the position, Al-Moslemani said that Mansour was conducting consultations with other potential candidates by phone.
"There are several choices and it is logical that ElBaradei is the prime choice of the revolutionary youth. But there are other forces that have been proposing other candidates," the media advisor said.
He insisted that the government to be announced soon would be, as army chief General Abdel Fattah El-Sisi promised, a technocratic government. "But this does not mean that it cannot have a politician for its head," he added.
"The times are very crucial and we have to be very careful with where we are heading, to avoid unnecessary hiccups," Al-Moslemani said.
Dismay spread in revolutionary quarters following news on that ElBaradei's assignment was not certain. The Tamarod (Rebel) movement that collected 22 million petition signatories withdrawing confidence from Morsi, and spearheaded subsequent calls for demonstrations leading to the ouster of Morsi, had proposed ElBaradei as its choice of interim political leader.
On several TV programmes, leaders of the group said they are determined "more now than before" to support the nomination of ElBaradei, saying this support would be demonstrated in mass demonstrations Sunday that the NSF has called for.
Meanwhile, a leading figure of El-Nour Party told Ahram Online that his party takes exception to the assignment of any NSF figure as prime minister because this would mean that power was extracted from one side (Morsi) to be passed over to the obvious adversary.
"We are still convinced that we need to avoid political escalation and to avoid the antagonisation of an already devasted political Islam youth who would inevitably conclude that President Morsi, the Islamist, was removed to allow a liberal-secular figure to take over. We are still convinced that a technocrat with an economic background is a priority for now."
For his part, Hamdi Hassan, a Muslim Brotherhood figure, said that the next government is a "coup-assigned" government and that the Islamic youth will not sit and watch while "the seculars" take over. "We don't recognise the next government anyway," he said.
A large group of Morsi supporters are still holding sit-ins across Cairo and Giza, among other governorates, demanding the return of Mohamed Morsi. Early news of the assignment of ElBaradei to the premiership prompted their fury.