Egypt
Egypt presidential polling stations close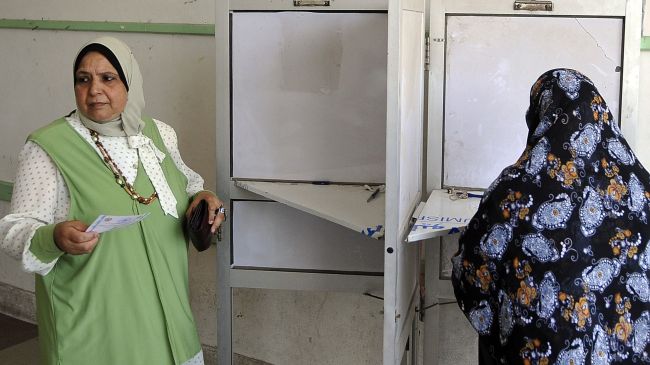 Polling stations across Egypt have closed at the end of the first day of a presidential election amid a low turnout.
Polls closed on Monday night as Egyptians finished the first day of the two-day voting.
Former army chief Abdel Fatah al-Sisi and leftist politician Hamdeen Sabahi are vying for the post of head of state.
Election winner will take over from interim President Adly Mansour, who was appointed by the army following the ouster of Egypt's first democratically-elected president, Mohamed Morsi, in July 2013.
Sisi is predicted to sweep to victory since he received 95 percent of the votes cast by Egyptian expatriates.
His victory in the presidential vote would place Egypt's presidency back in the hands of a top military official just three years after Egyptians rose up against former dictator, Hosni Mubarak, an air force officer who ruled Egypt for nearly three decades.
Meanwhile, in a twitter post, Sabahi condemned the arrest of his campaign member Ahmed Hanafy, describing it as "a violation of the law".
"Ahmed's life and that of all the campaign's representatives are the responsibility of the government," he said, demanding his team member's immediate release.
Egypt's Muslim Brotherhood movement and pro-democracy groups have boycotted the election, a move that has led to a lower turnout than the election that brought Morsi to power.
The government, however, denies that there has been a low turnout. Still, Prime Minister Ibrahim Mahlab has declared Tuesday a holiday to encourage participation in the election.