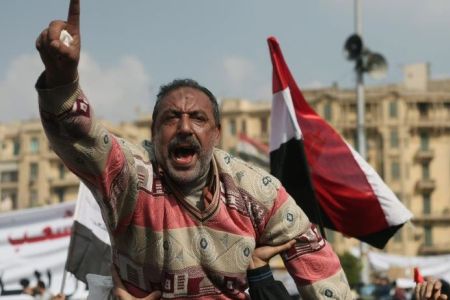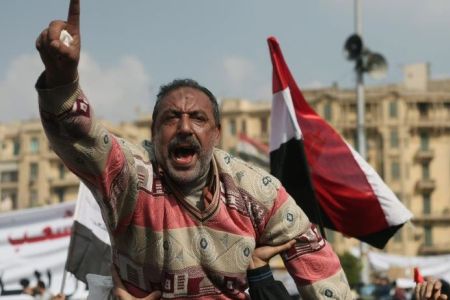 Egyptians block the cabinet building to prevent entry of premier nominee Kamal el-Ganzouri to protest the ruling junta's choice of the ex-regime figure, Press TV reports.
The move came on Friday after tens of thousands of Egyptian revolutionaries continued to hold their ground in Cairo's Liberation Square for the seventh straight day following a week of deadly clashes.
The demo came in response to activists calling for a million-man show of protest on "the Friday of the last Chance," to demand an end to the military rule in post revolution Egypt and the establishment of a civilian government.
The protests come after the Supreme Council of the Armed Forces (SCAF), which took control following the ouster of former dictator Hosni Mubarak in February, chose former Prime Minister Kamal el-Ganzouri to head a transitional government.
The 78-year-old Ganzouri served as prime minister from 1996 to 1999, and was also deputy prime minister and planning minister under Mubarak.
The pick outraged Egyptians, who have been calling for an end to military rule in their country and have been demanding the resignation of head of the ruling military council Mohamed Hussein Tantawi.
Ganzouri has, however, promised to serve the nation and announced that Tantawi is not willing to stay in power.
Egyptian revolutionaries are also calling for the postponement of the parliamentary elections scheduled for Monday, saying a free transparent election will not be possible under the de facto military rule.
The SCAF has, however, vowed that the elections, the first since Mubarak's ouster, will be held on November 28 as planned.
Meanwhile, a number of army officials have joined the popular calls for change, expressing exasperation with the status quo and the army's choice of prime minister.
Similar anti-junta demonstrations were held in other major Egyptian cities, including Alexandria and Ismailia.