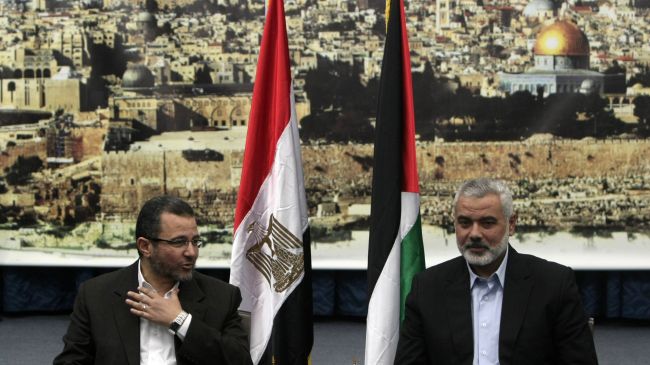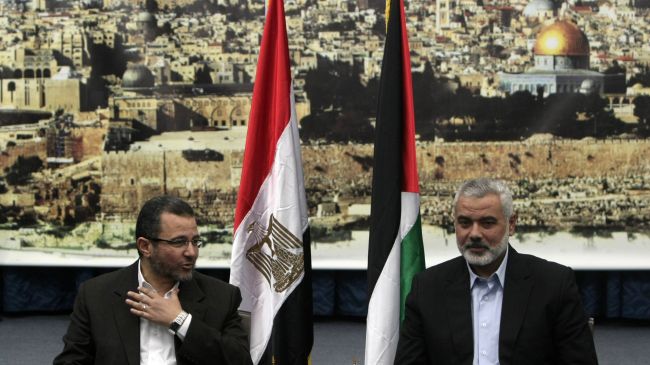 "Egypt will pay everything to stop the aggression and achieve a lasting truce. We will be with the Palestinians until their independence… That's the only way for stability in the region," Xinhua quoted Qandil as saying on Friday.
The Egyptian premier made the remarks at a joint press conference with the democratically-elected Palestinian Prime Minister Ismail Haniyeh in the Gaza Strip, which has been under intensive Israeli strikes since November 14.
"Egypt has started and will continue its efforts to end the Israeli aggression on the Gaza Strip," Qandil stated.
He added, "What I saw today in Gaza, at the hospital, with the martyrs, cannot be met with silence. This tragedy should not be met with silence and the whole world should take responsibility to stop the aggression."
The senior Egyptian official also called on the Palestinian factions to unite as this is "the only way for Palestinian strength." He asserted that Egypt will undertake its role in realizing the Palestinian internal reconciliation.
Haniyeh, for his part, described Qandil's visit as "historic," which indicates that Israel "can no longer do whatever it wants in Gaza."
The new wave of Israeli aggression on the Gaza Strip, which started on Wednesday, has claimed at least 25 lives. Ahmed al-Ja'abari, the popular and influential head of the Hamas military wing, the Ezzedeen al-Qassam Brigades, was assassinated in an Israeli attack on his car on Wednesday.
The Israeli military frequently carries out airstrikes and other attacks on Gaza Strip, saying the actions are being conducted for defensive purposes. However, in violation of international law, disproportionate force is always used and civilians are often killed or injured.
Gaza has been blockaded since 2007, a situation that has caused a decline in the standard of living, unprecedented levels of unemployment, and unrelenting poverty.
The apartheid regime of Israel denies about 1.7 million people in Gaza their basic rights, such as freedom of movement, jobs that pay proper wages, and adequate healthcare and education.