Egypt
Egypt set to announce referendum results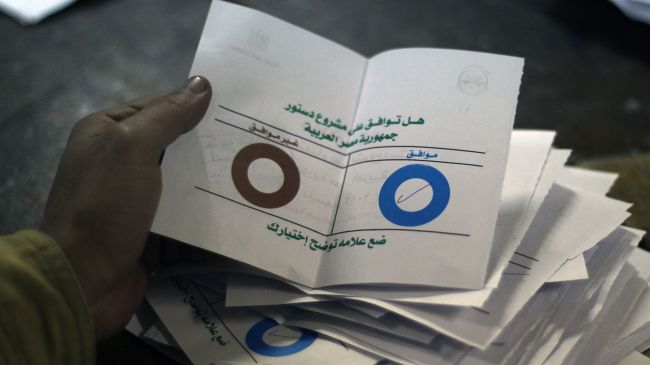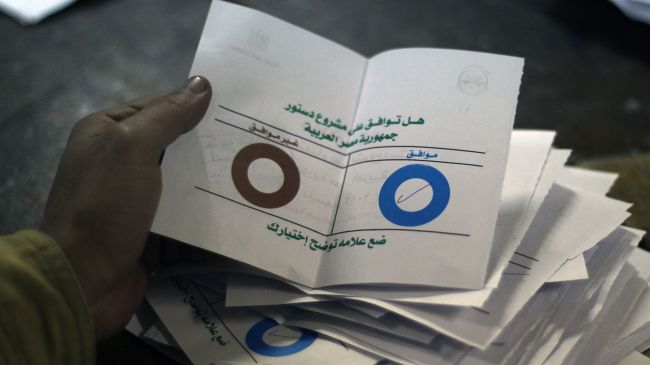 Egypt is set to announce the official results of a referendum on a new constitution, which is based on Islamic law, after a one-day delay.
"The Supreme Elections Committee will announce on Tuesday at 7 P.M. (17:00 GMT) the results of the referendum on the new constitution," said Judge Samir Abu el-Matti, the head of the elections committee.
A yes vote will pave the way for the formation of a new parliament after an election in about two months.
Unofficial tallies suggest that about 64 percent of the voters favored the draft constitution.
The opposition complains that the text, backed by President Mohamed Morsi, fails to guarantee the rights of Egyptian women and minorities.
But Morsi says the constitution will secure democracy and encourage stability.
On Sunday, the opposition also alleged "fraud and violations" in the referendum, saying that it will appeal the results of the vote.
"The referendum is not the end of the road. It is only one battle," the National Salvation Front said in a statement, read at a news conference in Cairo.
From among 25 million eligible voters in 17 provinces, over eight million people voted on Saturday in the second round of the referendum on the new constitution, which states that the nation must be governed by the principles of Islamic law.
The first round was held on the previous Saturday.