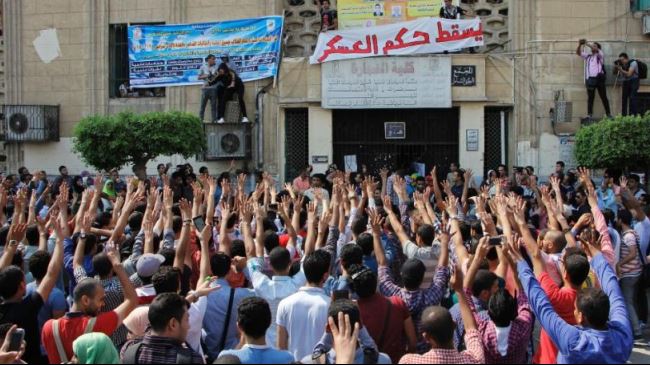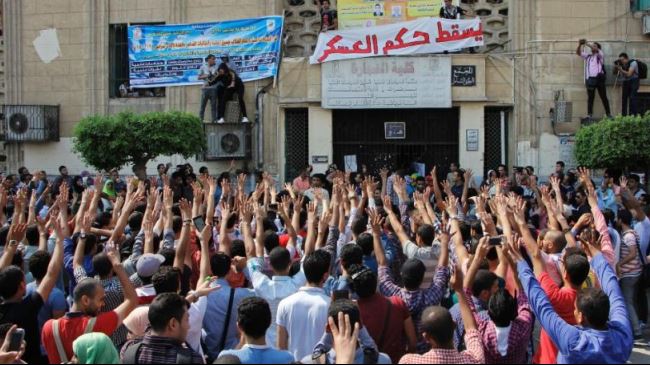 The cases of five Egyptian student protesters accused of damaging state property have been transferred to a military court, weeks after a law was passed allowing military trials of civilians.
A Cairo court transferred the cases of the five on Sunday, arguing that it does not have jurisdiction over the charges of rioting belonging to a "terrorist" group and arson.
The five students were apprehended in January over accusations of setting ablaze part of the engineering faculty at Al-Azhar University in Cairo and preventing employees from doing their jobs.
Last month, Egyptian authorities passed a law that allows military trials of civilians charged with damaging state property.
Critics say the measure, approved by President Abdel Fattah al-Sisi, allows further government clampdown on dissent.
Egypt's university campuses have witnessed regular anti-government demonstrations since the military ouster of the country's first democratically-elected president Mohamed Morsi in July 2013.
More than 1,000 students have been arrested since the government launched a crackdown on pro-Morsi supporters last year, many of whom have been handed harsh jail terms in mass trials.
Officials also say more than 500 students have been expelled or suspended for alleged "rioting."
The current Egyptian government has come under mounting pressure from human rights groups over its harsh crackdown on anti-government protesters.
Rights groups say the army's crackdown on the supporters of Morsi has led to the death of over 1,400 people and the arrest of 22,000 others, including some 200 people who have been sentenced to death in mass trials.