Egypt
Egyptian crisis detrimental to region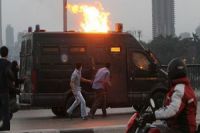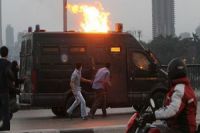 A senior Iranian lawmaker says the continuation of the current situation in Egypt will be to the detriment of the African country and the whole region, expressing hope that Cairo could resolve the crisis as soon as possible.
Alaeddin Boroujerdi, chairman of the National Security and Foreign Policy Committee of Iran's Majlis, said: Arresting the leaders of the Muslim Brotherhood could provoke their supporters to take to the streets.
The MP said the Muslim Brotherhood should also accept early elections because the only way to tackle the situation is through mutual understanding.
The MP emphasized: "It's a difficult job, but the only solution is to come to an understanding."
Reiterating Iran's policy of non-interference in other countries' internal affairs, Boroujerdi expressed hope that Egypt, as an important Muslim country, would overcome the current crisis as soon as possible.
The MP stated: "Iran will definitely not meddle in Egypt's internal crisis, but we are prepared to use our potential to help establish tranquility in Egypt."
Boroujerdi said extremists must not be allowed to cash in on the situation to push Egypt towards unfortunate events such as those gripping Iraq and Syria.