Egypt
Egyptians set fire to Israeli flag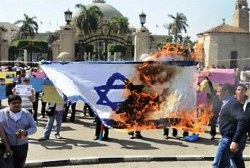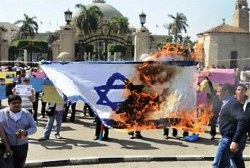 Egypt's Muslim Brotherhood has staged a million-people anti-Israel rally 'Support for Quds' in Cairo on Friday after prayers.
Al-Alam reported that the rallies organized by the Muslim Brotherhood and other Islamist movements, protested the Israeli violation of Quds and siege of Al- Aqsa mosque, and detention of Palestine's grand Mufti.
Yasser Moharrez, Brotherhood spokesman told Alyoum Al-Sabii (Alyoum 7) that the rallies had the message across to Israel that Arab nations, contrary to Israeli supposition, are concerned with the first Arab and Islamic world's issue, the issue of Quds, and that " they are not busy their own internal problems.