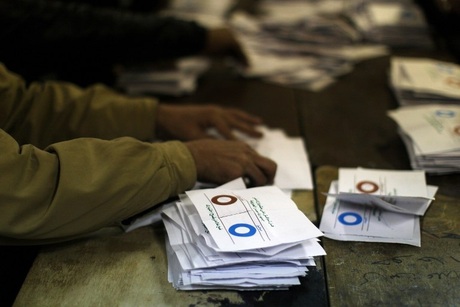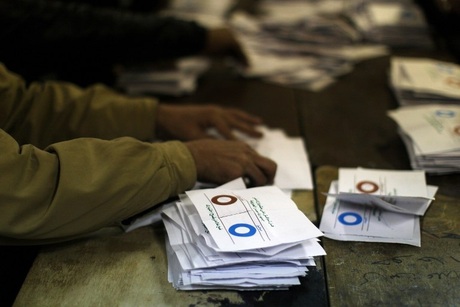 Egypt's electoral commission confirmed on Tuesday that a new constitution was passed by 64 percent of voters, rejecting opposition allegations of polling fraud.
Those official results tallied with figures given by President Mohamed Mursi's Muslim Brotherhood immediately after the last round of polling over the weekend in the two-stage referendum. Turnout, however, was barely 33 percent.
Samir Abul Maati, the president of the national electoral commission, told a Cairo news conference that a total of 63.8 percent of valid ballots supported the new constitution. Turnout was 32.9 percent.
Opposition allegations of fake judges supervising some of the polling were unfounded, he said, though adding that results from a few polling stations were annulled because they closed early.
For his part, Egypt's Prime Minister Hisham Qandil stressed that "there is no loser in this referendum result. This constitution will be for all of us."
He further urged "all political forces to cooperate with the government to restore the economy."
However, the opposition reiterated its rejection of the result.
"The law will take its course after the official complaints we have made to the prosecution service over violations and fraud that have been noted," National Salvation Front spokesman Khaled Daoud told AFP.
The main opposition coalition, however, has already dismissed the plebiscite as "only one battle" and vowed to "continue the fight for the Egyptian people".
In this context, Front leader Mohamed al-Baradei, conceded that the referendum was going to pass.
"But it's a really sad day in my view for Egypt, because it is going to institutionalize instability," he told the US television network PBS on Monday.
In parallel, he mentioned that "the new charter should be treated as an interim one until another is written up on the basis of consensus."
This comes as Egypt's Communications Minister Hani Mahmoud announced his resignation Tuesday, following in the footsteps of Vice President Mahmud Mekki.
Moreover, the official MENA news agency revealed that Mursi ordered the senate, which currently handles all legislative business, to convene on Wednesday.