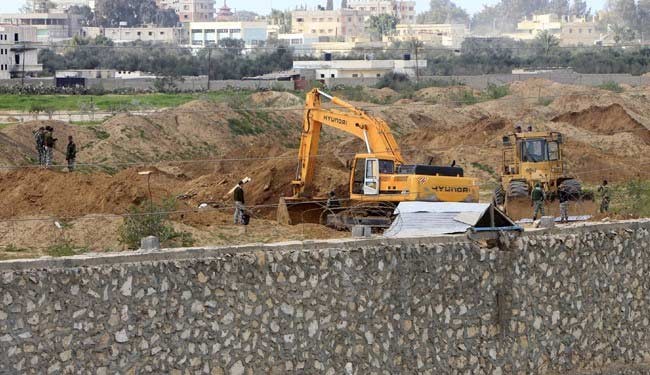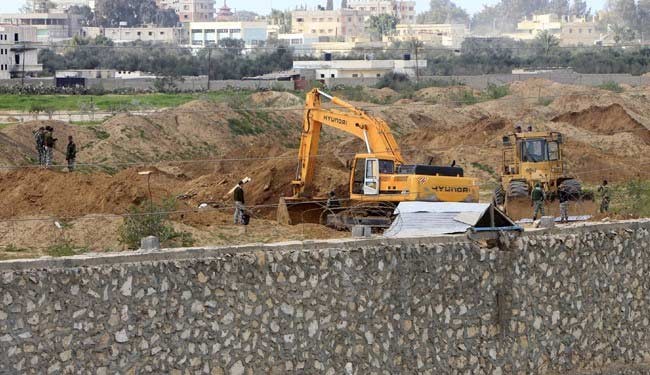 Egypt's military forces have demolished 1,055 supply tunnels at the nation's borders with the Gaza Strip since January 2011, according to the commander of the Egyptian border guard forces.
Major General Ahmad Ibrahim further pointed out that 794 Gaza supply tunnels have so far been destroyed by Egyptian forces in 2013, Ma'an News Agency reported Saturday.
Speaking with the West Bank-based Palestinian news outlet in el-Arish, the Egyptian commander also stated that military engineering services and military intelligence of the Egyptian army started to design detection systems for installation along the land borders in northeast Sinai and off the coast.
These systems, he said, will use modern technologies to detect smuggling tunnels so the army can destroy them.
Ibrahim further applauded the Sinai tribes for cooperating with the army in its efforts to fight militant groups in the area, claiming that Egyptian authorities have begun collecting information about residents whose homes sustained damage during the latest crackdown against militants in Rafah in order to compensate them.
Additionally, the army plans to create a "safe zone" in Rafah through which the Egyptian border guards will be able to effectively monitor and secure border areas, the general asserted.
"Minister of Defense Abdul-Fattah Sisi has given orders to reimburse residents whose homes sustained damage, or will be used for the purpose of creating a safe zone, either by paying them in cash or giving them new houses in modern neighborhoods," according to the commander.
The development comes as the US-backed Egyptian military has engaged in a major campaign to destroy critical supply tunnels to the Israeli-besieged Gaza Strip in the aftermath of its July 3 coup against the nation's first elected President Mohamed Morsi.