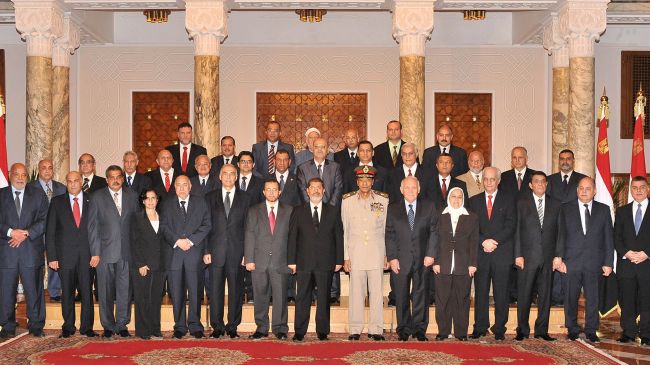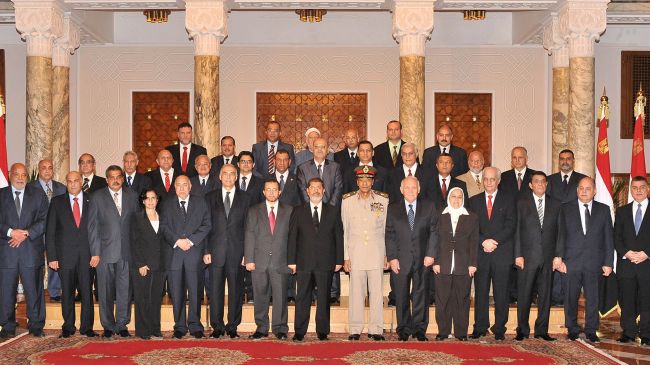 Egyptian President Mohamed Morsi has sworn in the country's new cabinet, which retains the former head of the Supreme Council of the Armed Forces (SCAF), Field Marshall Hussein Tantawi as defense minister.
The new cabinet, headed by Prime Minister Hisham Qandil, was sworn in on Thursday, AFP reported. The ceremony took place more than a month after Morsi was elected Egypt's president in the nation's first free elections since the fall of the former dictator, Hosni Mubarak in a popular revolution last year.
Qandil, who was the irrigation minister in the former cabinet, promised that the new government will have a different tone and touch, noting that he had chosen the ministers based on their merits not on account of their political and religious views.
"The main principle, the main criterion, was competence," he said, adding, "We should stop using such terms as them and us, and that this is a Christian, or a Copt, or a Muslim. All I see is Egyptians and citizens."
He also asked the Egyptians to throw their support behind the government, saying it needed their backing to tackle the economic and security challenges facing the country.
"We are the people's government; we do not represent any trend," the premier told a news conference hours ahead of the swearing-in ceremony
The new cabinet has retained seven ministers from the former one, appointed by the SCAF, which took over following Mubarak's ouster. They include Finance Minister Mumtaz al-Said and Foreign Minister Mohammed Kamel Amr. Former Prime Minister Kamal al-Ganzouri will become a presidential adviser.