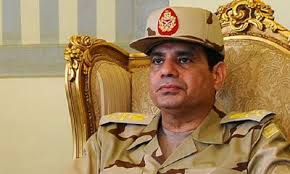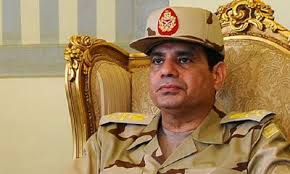 The head of the Egyptian armed forces, General Abdel-Fattah al-Sisi, has held a meeting with Islamic leaders in an attempt to resolve the crisis facing the country following the ouster of President Mohamed Morsi.
Egypt's army spokesman Colonel Ahmed Aly said in a statement issued on Sunday that Sisi met with several representatives of Islamic movements and "stressed that there are opportunities for a peaceful solution to the crisis provided all sides reject violence."
Colonel Aly did not mention the details of the meeting.
Tension has intensified in Egypt since General Sisi announced on July 3 that Morsi was no longer in office. Sisi also suspended the constitution and dissolved the parliament.
Muslim Brotherhood's Freedom and Justice Party says it remains committed to "legitimacy, which stipulates the return of the president, the constitution and the Shura Council (upper house of parliament)."
"We affirm our welcome of any political solutions proposed on the basis of constitutional legitimacy and rejection of the coup," the Freedom and Justice Party stated.
Freedom and Justice Party members have met with US Deputy Secretary of State William Burns, who is in Cairo to help end the stalemate.
Meanwhile, thousands of Morsi supporters remain at their protest camps in Cairo as the interim government's deadline draws to an end. The protesters insist that they will not leave the camps until Morsi is reinstated.
The Egyptian Interior Ministry has once again repeated calls for pro-Morsi sit-ins in Cairo to end.
"Continued presence… at the square will expose them to legal action over their involvement in several criminal acts including killing, torture, kidnapping, possessing weapons, blocking roads, and inciting violence," the ministry said on Saturday.
Egyptian authorities say they have plans to break up two camps after setting up a cordon around them. The military-installed government has been struggling to end a political stalemate that has paralyzed the country.
On July 27, at least 150 people were killed and scores of others injured in clashes during rival demonstrations by the supporters and opponents of Morsi across the country.