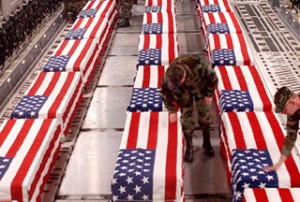 Eight US soldiers serving under ISAF command have been killed in eastern Afghanistan in "complex" attacks by militants, the US military says.
The troops were killed in a remote area east of Afghanistan near the Pakistan border, after fighters launched a "complex," attack, Captain Elizabeth Mathias, a military spokeswoman said on Sunday.
The increasing fatalities have emphasized the current year as the deadliest for the foreign forces since the beginning of the invasion of Afghanistan in 2001.
As of Saturday, Oct. 3, 2009, at least 774 members of the US military have died in Afghanistan, Pakistan and Uzbekistan as a result of the US invasion of Afghanistan, according to the US Defense Department.
In all, 386 foreign soldiers, including an estimated 228 Americans, have reportedly been killed this year.
Despite the presence of the US-led International Security Assistance Forces (ISAF) in Afghanistan since 2001, insurgency has risen in the country.
Afghans have been the main victims of the rising violence. The UN Assistance Mission in Afghanistan (UNAMA) "recorded 1,500 civilian casualties between January and August, with August being the deadliest month since the beginning of 2009," according to its statement issued on September 25.
A security map by the London-based International Council on Security and Development (ICOS) has recently showed a deepening security crisis with substantial Taliban activity in all corners of the war-ravaged country.
The US invaded Afghanistan more than eight years ago to allegedly eradicate the militancy and arrest its leaders. Since that time, none of the senior Al-Qaeda or Taliban leaders have been arrested or killed.