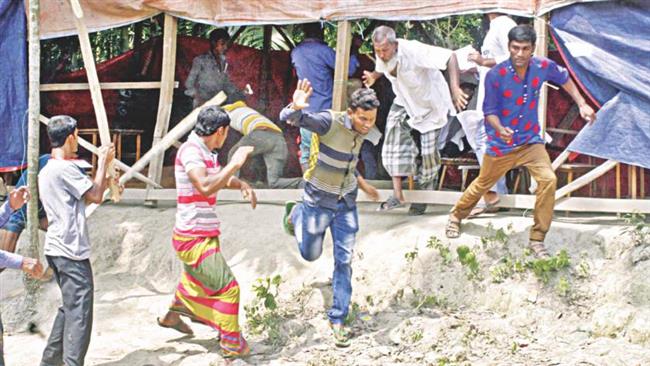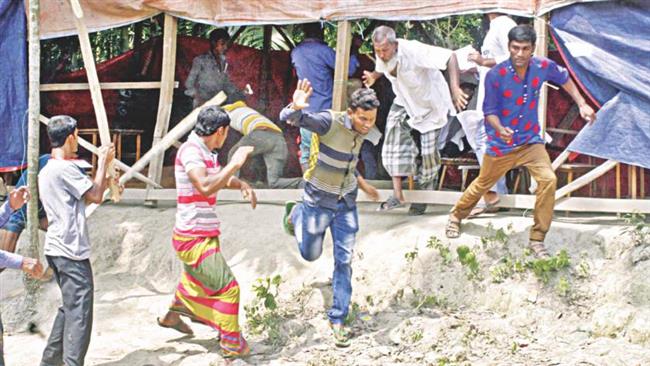 At least 10 people have been killed in Bangladesh after clashes erupted between supporters of rival candidates of local elections.
Seven of the dead were shot by security forces on Tuesday on a magistrate's order, police chief Walid Hossain said.
He said officers fired at thousands of unruly people who attacked police with machetes, rocks and sticks.
Police shot dead two other people in the town of Sabrang, when supporters of a ruling party candidate allegedly tried to snatch ballot boxes from paramilitary forces.
Five others were killed in separate clashes across the country.
An official said the victims were supporters of the ruling Awami League, who had attacked police and other guards taking ballot boxes to the government headquarters.
People line up to cast their vote at a polling center in Jamalpur district, March 22, 2016.
People cast their ballots in 36 districts on Tuesday to elect their local governments or Union Parishad. The elections will be held in six phases over the next four months.
The main opposition Bangladesh Nationalist Party (BNP) has accused the ruling party of meddling in the votes, saying almost all the local council polls were marred by violence.
The party's vice-chairman Abdullah Al Noman demanded the votes to be cancelled in 50 constituencies, alleging massive fraud and occupation of polling centers.
"The people have witnessed that this election commission is dictated by the government and the polls are rhetoric. Most of the 712 Union Parishad were occupied by musclemen and widespread fraud took place," he said.
Chief election commissioner Kazi Rakibuddin Ahmad, however, claimed that apart from some stray incidents, the polls were free, fair and peaceful.
According to local newspapers, Prime Minister Sheikh Hasina's Awami League had won more than two thirds of the councils in the first round of the polls.