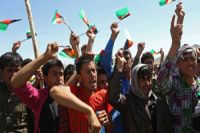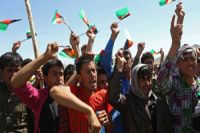 At least eleven people have been killed and several others injured in violent clashes between police and protesters in the southern Afghan province of Kandahar.
The causalities came after hundreds of Afghan protesters took to the streets on Wednesday in Kandahar city to protest the latest skirmishes along the border with Pakistan.
Afghan security sources said Taliban militants, who were among the anti-Pakistan protesters, opened fire on the police. They added that at least eight Taliban militants were among those killed.
Wednesday's protest rallies followed a spate of clashes between Afghan and Pakistani security forces at a contested border area over the past few days. The clashes have left one Afghan soldier dead and a number of Pakistani border guards injured.
The two neighbors have accused each other of beginning the firing on the border.
The recent conflict focuses on a military gate which is partly built by Pakistan at a site that Afghan officials say is inside Nangarhar Province.
Afghan President Hamid Karzai has ordered his top officials to take immediate action to remove the gate and other Pakistani military installations near the Durand Line.