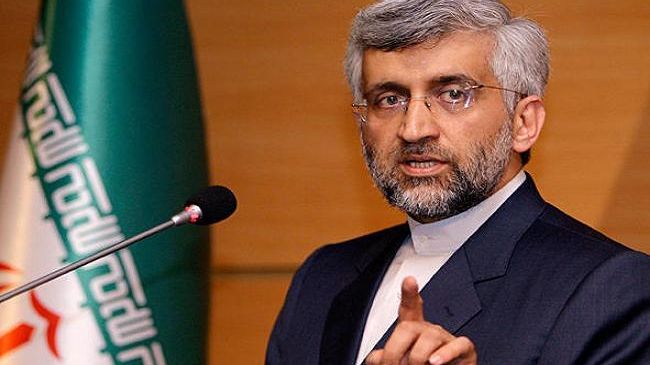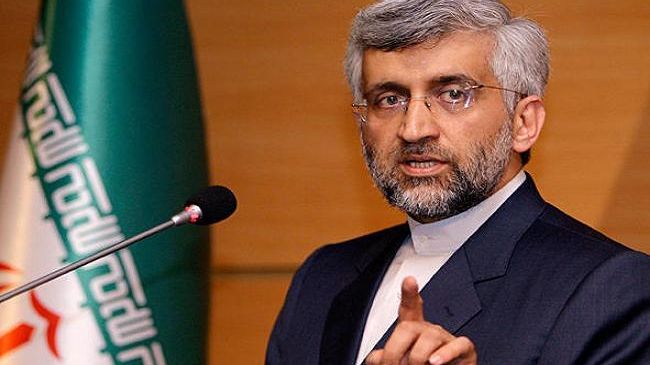 Secretary of Iran's Supreme National Security Council Saeed Jalili says the enemies of the Islamic Republic fear the wave of Islamic Awakening and not nuclear weapons.
"It is the Islamic Awakening that the enemies are worried about, not nuclear weapons," Jalili said in a Monday meeting with the chairman of Tunisia's ruling al-Nahda parliamentary bloc, al-Sahbi Atiq.
He also described the Tunisian revolution as the advent of the Islamic awareness movement in the Middle East and North Africa to the dismay of the hegemonic powers.
He added that Muslims can capitalize on the 'illuminating Islamic thoughts' to achieve all their long-standing objectives, "including the freedom of Palestine and the honorable al-Quds (Jerusalem)."
Referring to the outcomes of the Islamic Awakening movement in the Arab world, he further stated that such uprisings served as "the onset for the materialization of principles held by Muslim nations, and brought about effective resistance against aggression and occupation, particularly against the Zionist regime (Israel)."
The top Iranian national security official further underlined the significance of Muslim unity and reiterated that existing capacities within the Muslim world can effectively boost their struggle against the schemes by hegemonic powers.
For his part, the Tunisian lawmaker highlighted the role of the Islamic Awakening movement in the emancipation of Muslim nations in the region, stressing that "the greatest honor of the Islamic Revolution in Iran is that it serves as the leader in the regional revolt [against global powers] and from our point of view, all regional revolutions are indebted to the Islamic Revolution in Iran and its leadership."
Atiq made a reference to some powers interfering in regional developments and said, "The US-led alliance of dominant powers are neither pro-Islam, nor do they support democracy and the rights of nations."
The top Tunisian legislator also rapped enemy ploys against Muslim states, saying that they "fear the real democracy as much as they oppose the resistance movement and Islamic thought."