Human Rights
Palestine
Enemy of Humanity Israeli army used radioactive and heavy materials in aggression on Gaza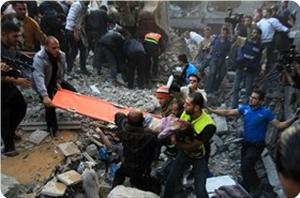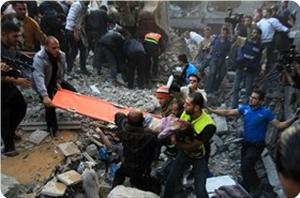 Major Hazem Abu Murad, assistant director of explosives engineering and member of the Committee to document war crimes, revealed that the occupation used radioactive materials in the explosives with which it had bombed the Gaza Strip.
Abu Murad told the Interior Ministry that the weapons with which Israel targeted Gaza contain heavy elements, including the Uranium, tungsten, aluminum and nickel", and pointed out that these materials raise the temperature in the center of the explosion to 7 thousand degrees Celsius, and boost the destructive ability of the shell.
He also pointed to the types of weapons used by the occupation during the recent aggression on the Gaza Strip, noting that among those weapons there are 3types of ammunition which have been used for the first time.
Major Abu Murad noted that the occupation had bombed some targets in the Gaza Strip during more than one strike, and confirmed that the occupation targeted Gaza with nearly 3 thousand artillery shells at a rate of 600 raids every night for the seven nights of aggression.
He appealed to the citizens, in case they discover any suspicious object or military ammunition, to get away from it because it may pose a risk to their lives.