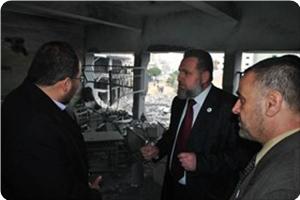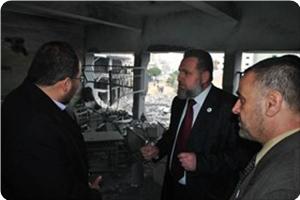 The Palestinian Minister of Education in Gaza, Osama Muzaini, said that 50 schools were damaged during the aggression on the Gaza Strip, which lasted eight days.
The minister pointed out that the losses in the education sector amounted to about four million dollars, according to the initial estimates.
He said, in a press conference held on Thursday after his tour of a number of damaged schools including UNRWA schools and the American School, that "five employees in the education sector were killed and more than 300 others, including students and teachers, were wounded during the aggression."
Muzaini added that most of the students killed during the aggression were from primary schools and kindergarten, pointing out that the students from the damaged schools will be transferred to other schools until the restoration and reconstruction of their schools which had been targeted by the bombings.
He also noted that the schools will open next Saturday which will be devoted for the emotional discharge through educational methods to mitigate the effects of war on children.
He denounced the continuation of targeting the schools, teachers and even the kindergartens and urged the United Nations and the Security Council to intervene and oblige the occupation to respect the Fourth Geneva Convention, which provides for the protection of schools, the right to education, and the educational institutions.
The Minister of education stressed that in spite of the deliberate targeting of the educational process, by the occupation, it will continue because it is the way to liberate the homeland and to achieve a dignified life for the Palestinian people.