Human Rights
Middle East
Saudi Arabia
World News
Yemen
Enemy of Islam and Humanity Saud hits convoy of food, medicine in Yemen amid coronavirus
This is the aftermath of the latest Saudi airstrikes in al-Bayda Province. According to Yemeni officials, the attacks targeted a customs facility and left nearly a dozen people injured.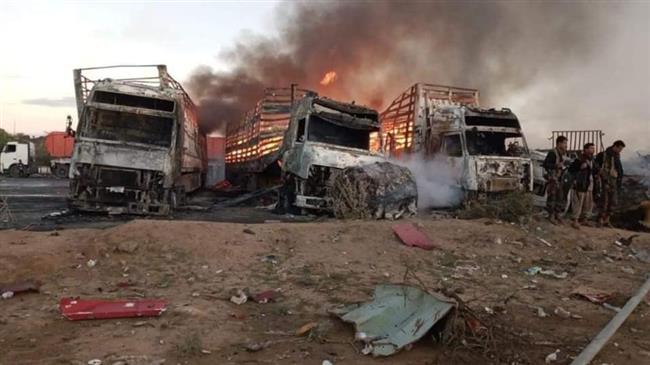 The air raids also destroyed 11 trucks that were loaded with food, medicine and other basic commodities. Activists believe such attacks are evidence of Riyadh's unwillingness to even show commitment to its own declared truce for the month of Ramadan.
Targeting food and medicine trucks come at a time when Yemen is battling the outbreak of the coronavirus. On Saturday, Yemen's health minister held a presser in Sana'a, accusing Riyadh of deliberately attempting to spread the Covid-19 pandemic.
The attack on Afar costumes Center is not the first of its kind. Recently, such checkpoints in southern and northern Yemen have witnessed a spike in Saudi airstrikes. Experts say Yemen could not bear another pandemic as previous less fatal outbreaks have claimed the lives of thousands of civilians.
The outbreak of Covid-19 in Yemen has renewed calls on Saudi Arabia to lift its blockade and end its attacks. Activists and rights groups have urged the UN to send in urgent aid and medicine to Yemen in order to combat the spread of the deadly virus.