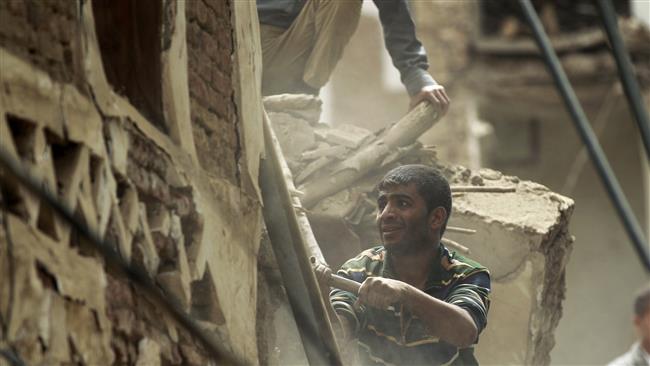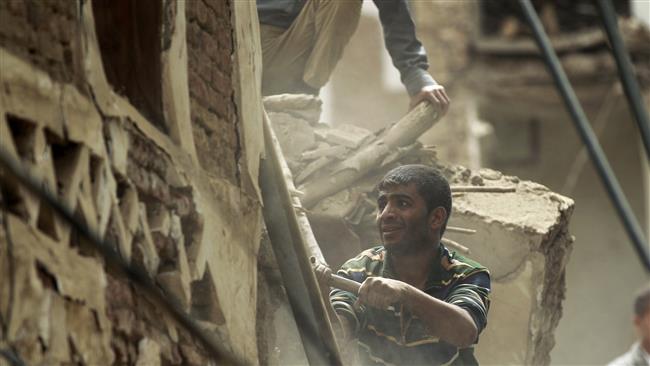 Saudi Arabia continues to bombard areas across Yemen amid ongoing negotiations in the Swiss city of Geneva over the conflict in the impoverished country at the southern tip of the Arabian Peninsula.
Saudi warplanes launched several airstrikes in the area of Naqim Mountain in the capital city of Sana'a on Wednesday, Yemen's al-Masira TV reported without specifying the number of casualties or extent of material damage in the attacks.
The Saudi fighter jets also targeted the capital of the northern Yemeni province of Jawf late on Tuesday.
In their airstrikes on the town of Hazm, the Saudi warplanes targeted a market and the house of a military official.
The Saudi fighter jets also destroyed a school in the province.
The Yemeni province of Sa'ada was also hit by Saudi warplanes on Tuesday.
In response to the Saudi air strikes, the Yemeni army and popular committees, including the fighters of the Ansarullah movement, targeted Saudi Arabia's military bases near the border in the southern Saudi province of Najran.
A Saudi tank and a security tower reportedly came under artillery and gunfire attack and a military vehicle was also targeted as it attempted to flee from one of the bases.
Reports also said that following the attacks, Saudi soldiers fled the military sites.
The developments came as representatives of several Yemeni factions, including the Ansarullah movement, are holding consultations in Geneva to find a way out of the crisis in Yemen. The delegation on Tuesday met with United Nations Special Envoy for Yemen Ismail Ould Cheikh Ahmed as part of UN-brokered peace talks on Yemen.
The United Nations (UN) offices at Geneva hosting the Yemen peace talks are seen on June 16, 2015. (© AFP)
The talks in Geneva aim to secure a ceasefire and accelerate the delivery of humanitarian aid to war-stricken Yemeni people.
Saudi Arabia launched its aggression against Yemen almost three months ago – without the approval of the UN. The United Nations (UN) says at least 2,600 people have been killed and 11,000 others wounded due to the conflict in Yemen since March 19.The Yemeni army along with popular committees are fighting terrorist al-Qaeda-linked groups and the ISIL Takfiri militants across the country.