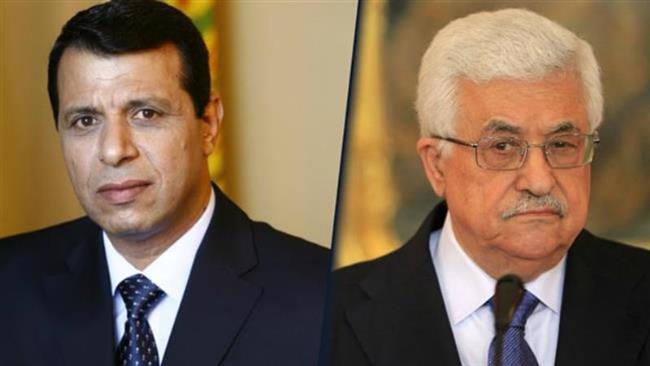 US Ambassador to Israel David Friedman has set off uproar among the Palestinians after suggesting Washington was considering supporting exiled former Fatah strongman Mohammed Dahlan to unseat Palestinian President Mahmoud Abbas.
"We're thinking about it, but we have no desire to engineer the Palestinian leadership," Friedman said in an interview published by the Israel Hayom newspaper on Thursday.
The report said there are elements within the US administration that are in favor of supporting Dahlan to overthrow Abbas as the next Palestinian Authority chief.
The US envoy also suggested that the Tel Aviv regime is moving forward with its plan to illegally annex more Palestinian territory.
Friedman's remarks came after he attended the signing of normalization deals between Israel, Bahrain and the United Arab Emirates (UAE) in a US-brokered event hosted by President Donald Trump at the White House in Washington on Tuesday.
Israeli prime minister Benjamin Netanyahu signed the agreements with Emirati Foreign Minister Sheikh Abdullah bin Zayed Al Nahyan and Bahrain's Foreign Minister Abdullatif Al Zayani.
Palestinians, who seek an independent state in the occupied West Bank and Gaza with East Jerusalem as its capital, view the deals as a betrayal of their cause.
President Abbas protested the normalization deals with Tel Aviv, saying the agreements will be fruitless as long as the United States and the Israeli regime do not recognize the rights of the Palestinian nation and refuse to resolve the issue of Palestinian refugees.
He reiterated that there will be no peace, security or stability for anyone in the region unless the Israeli regime ends its occupation of Palestinian land, and Palestinians restore their full rights as stipulated in international resolutions.
Abbas warned against attempts to bypass the Palestinian people, emphasizing that the US administration and the Tel Aviv regime will bear full responsibility for serious repercussions of such bids.
'US blackmail policy, threats against Palestinians doomed to failure'
Palestinian Presidential spokesman Nabil Abu Rudeineh roundly dismissed Friedman's remarks, stressing that Washington's campaign of pressure against the Palestinian nation and President Abbas is doomed to failure.
"Only our Palestinian people can decide their leadership according to the democratic foundations laid by the Palestine Liberation Organization (PLO). US Ambassador to Israel David Friedman is trying to pressure the Palestinian leadership through threats, intimidation, and the cheap policy of blackmail," he said.
"Suspicious campaigns and conspiracies aimed at liquidation of our national cause, particularly those targeting the issue of Jerusalem al-Quds and its sacred sites besides symbols of the Palestinian nation, are rejected. Palestinian people will draw the map [of their independent state] and will choose the leadership that best safeguards their national rights and principles."
'Friedman's statements indicate US political bankruptcy'
Palestinian Prime Minister Mohammad Shtayyeh said Friedman's remarks fall within a US-Israeli plot that is known to all.
"Some Arabs are clearly involved in the plot in order to undermine the legitimacy of President Mahmoud Abbas, because of his steadfastness and courage to defend the rights of Palestinians, his refusal to capitulate to US-Israeli diktats, and his resilience against pressure by some Arab states to sell the legitimate national rights of Palestinians."
Friedman's statements, he said, amount to political bankruptcy, and reflect the level of Trump administration's arrogance towards the legitimate national rights of Palestinians and their elected leadership.
"Such comments will only strengthen Palestinians' resolve to rally around their legitimate leadership until an independent state is created on 1967 borders with al-Quds (Jerusalem) as its capital, and the Palestinian right of return is reserved in accordance with UN General Assembly Resolution 194," Shtayyeh said.
Dahlan is a controversial figure harbored by the United Arab Emirates (UAE) and Egypt, and faces legal cases from both Palestine and Turkey on several charges, including murder, corruption, and involvement in the abortive 2016 coup attempt against Turkish President Recep Tayyip Erdogan.
He has been sentenced in absentia to three years in prison in 2016 by a Palestinian court for corruption, and ordered to repay $16 million, according to his lawyers.
Dahlan once led a coup against the elected Hamas government in Gaza in 2007. The plan was a massive failure and in a matter of days in the summer of 2007, the resistance movement routed out Dahlan's forces.