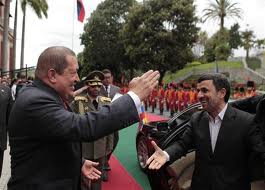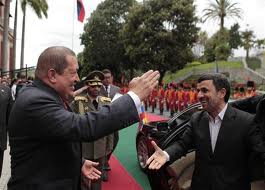 Iran's President Mahmoud Ahmadinejad says the era of a global capitalist order has terminated, insisting that the capitalist powers' logic is merely based on bullying, weapons and threats.
"The implementation of justice will serve as the basis for establishing peace, tranquility, progress and brotherhood," said President Ahmadinejad in a joint press conference with his Venezuelan counterpart President Hugo Chavez in Caracas on Tuesday.
"The future [world] order must be a clean order," he noted, adding that the next global order must guarantee the placement of pure souls at the peak of power.
He also emphasized the importance of promoting freedom, justice and independence, arguing that "justice and freedom are intertwined."
The Iranian chief executive added that Tehran and Caracas call for justice, freedom, progress and welfare for all nations.
The Iranian and Venezuelan nations have always resisted against the extremism of arrogant powers, he emphasized.
Whenever we speak about our country's progress and development, arrogant powers claim that we are making bombs, President Ahmadinejad stated.
"Hegemonic powers view our progress as detrimental to their own interests. They seek to plunder our assets and impose their will on us," he pointed out, adding that, however, the nations of the world are vigilant and conscious and consider such attitudes as ludicrous.
The Iranian president reiterated that the arrogant powers should recognize the fact that Iran and Venezuela are bound to promote mutual cooperation to achieve their objectives.
Independent and justice-seeking nations will always support each other and nothing could separate the Iranian and Venezuelan people, the Iranian president further said.
President Ahmadinejad arrived in Caracas on the first leg of his five-day tour of several Latin American countries. He is also scheduled to pay a visit to Nicaragua, Cuba and Ecuador and hold talks with senior officials of the countries to further expand relations.
Leaders in all the four Latin American countries have in recent years built up diplomatic and trade ties with Iran, while their relations with the US have been greatly reduced amid popular demands for an end to dependence on Washington.