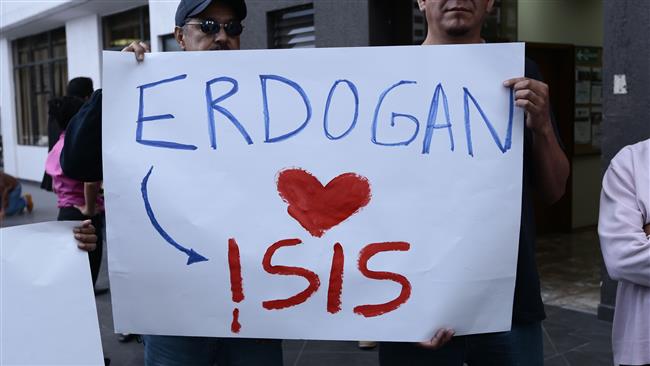 Newly-released footage shows personal bodyguards of Turkish President Recep Tayyip Erdogan violently attacking three female protesters during his speech in Ecuador before wrestling them away.
The incident happened on Thursday as the Ecuadorian female dissidents forced their way into the venue of Erdogan's speech at the National Higher Studies Institute in capital Quito, Turkish paper Today's Zaman reported.
Angered by the Turkish leader's policies against Kurdish minority as well as Ankara's support for Takfiri militants in Syria, the activists shouted "Murderer out."
The guards, who were reportedly those of Erdogan, also tried to prevent media from taking pictures of the violence.
An Ecuadorian lawmaker, who intervened to protect the women, was also injured during the scuffle, according to the report.
Diego Vintimilla has posted photos on his Twitter account, showing him with bloody nose and hands and a bruise on the arm.
Ecuadorian National Assembly President Gabriela Rivadeneira also took to Twitter to condemn the assault by Turkish bodyguards against Vintimilla.
In a statement after the incident, the female activists said Erdogan's security staff targeted their face and "intimate parts."
After the protesters were removed, Erdogan said, "As you can see there can be disrespectful people."
Turkey has been engaged in a large-scale campaign against the outlawed Kurdistan Workers' Party (PKK) in its southern border region in the past few months.
The Turkish military has also been conducting offensives against the positions of the group in northern Iraq.
Ankara has come under fire for the civilian fatalities caused during the conflict. According to the Turkish Human Rights Foundation, around 200 civilians, including 39 children, have been killed in military operations against PKK since last August.
Several thousands of Kurdish residents in Diyarbakir in southeast Turkey have, meanwhile, fled the embattled city amid intense clashes between government forces and the PKK militants.