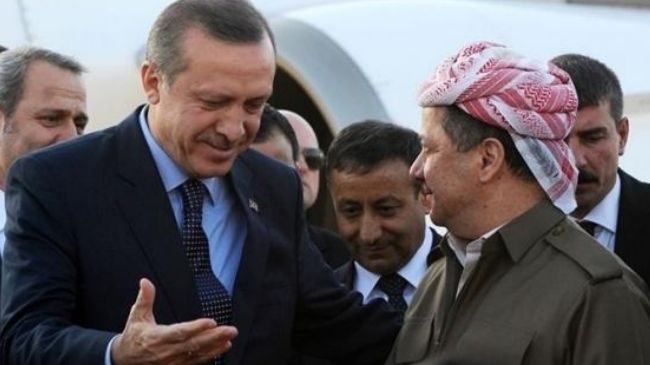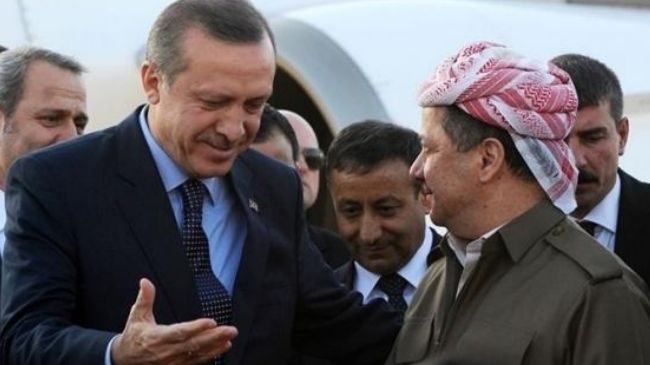 Turkish Prime Minister Recep Tayyip Erdogan is to meet with head of Iraq's Kurdistan Regional Government Massoud Barzani to discuss a stalled peace deal between Ankara and Kurdistan Workers' Party (PKK).
Erdogan and Barzani are scheduled to meet on Saturday in the largely Kurdish-populated province of Diyarbakir in southeastern Turkey, where the two sides will discuss ways to rekindle the peace process between Ankara and the PKK, which was halted in September.
A source close to the Turkish government said the choice of Diyarbakir, which is the "cradle of Kurds, is certainly symbolic."
"The Turkish government wants to demonstrate its commitment to ending the Kurdish conflict at a time when business is not going so well."
In March, the imprisoned leader of the Kurdistan Workers' Party, Abdullah Ocalan, declared a historic ceasefire after months of negotiations with the Turkish government.
In return, the PKK demanded amendments to the penal code and electoral laws as well as the right to education in the Kurdish language and a degree of regional autonomy.
However, the group announced in September it was planning to suspend the ceasefire in protest at a disappointing reform package.
On October 14, Ocalan called on Ankara to engage in serious talks to end nearly three decades of conflict.
"It is necessary to put into practice deep negotiations without delay because of the sensitivity of the process," he stated.
Turkey's parliament also extended in October by a year a mandate authorizing the government to order military strikes against the PKK in Iraq. The motion allows Ankara to launch cross-border operations against the group members settled in northern Iraq.
The PKK has been fighting for an autonomous Kurdish region in southeastern Turkey since the 1980s. The conflict has killed more than 40,000 people.