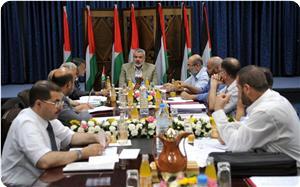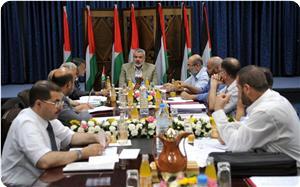 The Palestinian government in the Gaza Strip has lashed out at the Israeli occupation forces (IOF) for escalating ground and aerial attacks on the Gaza Strip during over the past few days.
The government of Ismail Haneyya issued a statement at conclusion of its weekly session at dawn Wednesday after its lengthy meeting that started late on Tuesday night describing such attacks as a reflection of the Israeli aggressive nature and terrorism.
It said that the military escalation against the Strip coupled with the "terrorist campaigns" launched by Jewish settlers in the West Bank against the Palestinian people with IOF protection would only boost the Palestinians' insistence on their land, rights, and holy shrines.
The government categorically rejected Israeli premier Benjamin Netanyahu's statement reiterating that Jerusalem would remain the capital of Israel, adding that Jerusalem is an occupied Palestinian land and the capital of the Palestinian state.
It praised the UN Secretary General Ban Ki-moon's visit to the Strip, describing it as a step in the right direction, adding, however, that the step must be followed by practical measures to lift the Israeli siege and end the citizens' suffering.
It finally castigated the Fatah-controlled PA in Ramallah for dismissing teachers en masse in the West Bank for their political affiliation, charging that the step reflected that Fatah was against restoring national unity and ending division.