Iran
Middle East
North America
Esper contradicts Trump on intel that led to Gen. Soleimani's assassination
US Secretary of Defense Mark Esper has made remarks that clearly contradict earlier comments by President Donald Trump who alleged Iranian top commander Qassem Soleimani had been plotting attacks against four US embassies before he was assassinated in an American airstrike.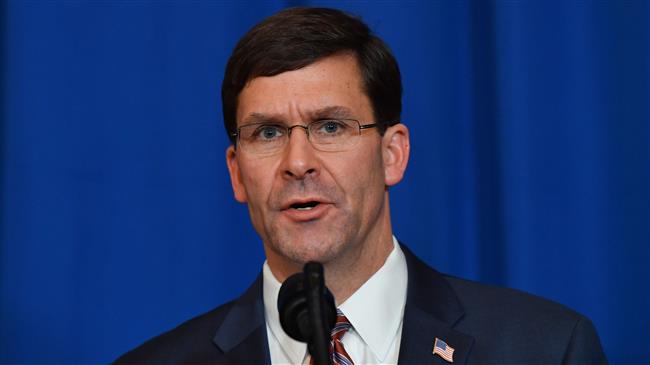 Trump personally ordered the drone strikes that targeted Lieutenant General Soleimani, commander of the IRGC's Quds Force, and Abu Mahdi al-Muhandis, the second-in-command of Iraq's Popular Mobilization Units (PMU) as well as eight other companions on January 3.
US assassinates Iran's Gen. Soleimani, Iraqi PMU deputy headThe director of public relations of pro-government Hashd al-Sha'abi forces has been killed after three Katyusha rockets fell on Baghdad International Airport.
Speaking on Fox News Friday, the US president alleged that "four embassies" would have been targeted if the US had not carried out the operation, but failed to provide any details to substantiate his claims.
"We will tell you probably it was going to be the embassy in Baghdad," Trump claimed. "I can reveal that I believe it would have been four embassies."
Commenting on Trump's remarks, however, Esper told CBS's Face the Nation Sunday that he had not seen any specific piece of evidence that would suggest those attacks were in the making.
"I didn't see one with regard to four embassies," he said when asked if there had been any tangible threat prior to the US airstrikes.
In a separate interview with CNN's "State of the Union" on Sunday, Esper appeared to be cautiously supporting Trump's view that Iran had been planning attacks against multiple embassies.
"What the president said in regard to the four embassies is what I believe as well. And he said he believed that they probably, that they could have been targeting the embassies in the region," Esper said, not confirming however that there was intelligence to support what he or the president believed.
"I'm not going to discuss intelligence matters on the show," Esper said.
The New York Times has pointed to the disparity between President Trump and his defense secretary concerning the intelligence that pushed Iran and the US to the brink of war.
"They had to kill him because he was planning an "imminent" attack. But how imminent they could not say. Where they could not say. When they could not say. And really, it was more about what he had already done. Or actually it was to stop him from hitting an American embassy. Or four embassies. Or not," the Times wrote, with regard to the Trump administration's constantly shifting justifications as to why they had to target the Iranian general.
Members of Congress have also questioned whether an Iran attack was imminent, which the Trump administration said was the case in defending the decision to conduct the strikes in intelligence briefings before lawmakers.
US House Speaker Nancy Pelosi on Thursday called the killing "provocative and disproportionate," and other members of Congress said they were unconvinced following the closed-door briefing.
She told ABC's "This Week" that "I don't think the administration has been straight with the Congress of the United States" about the reasons for targeting General Soleimani.
Senator Mike Lee of Utah, a Republican critic of the administration since the strike, cast doubt on the information shared with Congress and complained that he had not "been able to yet ascertain specific details of the imminence of the attack," according to CNN.
In an interview with CBS, Adam Schiff, Democratic chair of the House Intelligence Committee, criticized Trump for his remarks on Fox News, saying that he was "fudging the intelligence."
"Frankly, I think what they are doing is overstating and exaggerating what the intelligence shows," he said, noting there had been no specificity in the briefing of congressional leaders concerning attacks on US embassies.
In retaliation for the assassination of Soleimani, Iran targeted the American airbase of Ain al-Assad in Anbar province in western Iraq and another in Erbil, the capital of Iraq's semi-autonomous Kurdistan region on Wednesday.
IRGC: Iran missile attack sought to damage US war machineIran's Islamic revolution Guards Corps says its recent missile attack on a US base in Iraq was not aimed at killing American troops but sought to damage the US war machine.
A USA Today/Ipsos poll released Thursday found that 55% of Americans said they believed the killing of General Soleimani has made the United States less safe, rejecting a fundamental argument by the Trump administration that the assassination made the US safer.