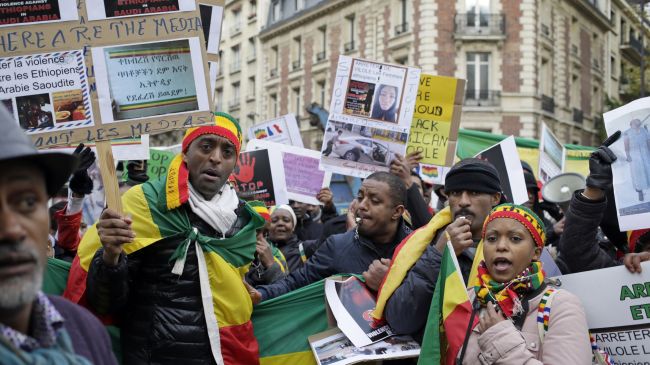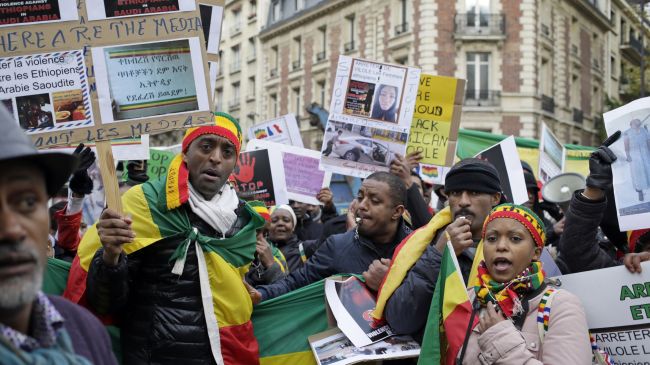 Ethiopian women and children have staged a demonstration in the Saudi Arabian capital Riyadh over the deterioration of their situation in the kingdom.
At Friday's protest, the migrants accused the Saudi government of violating the rights of foreign workers.
They also said Saudi officials are trying to make up excuses to expel them from the oil-rich country.
Earlier this week, Ethiopians also staged demonstrations in France and the United States to protest against the conditions of Ethiopian migrant workers in Saudi Arabia.
At least three Ethiopian nationals have been killed in clashes with Saudi police in recent weeks, as the crackdown on foreign workers has intensified.
Riyadh plans to repatriate at least 23,000 undocumented Ethiopian migrants.
The Saudi government has announced plans to create jobs for Saudi nationals by reducing the number of foreign workers totaling some nine million people.
Hundreds of thousands of workers have already left the kingdom amid tougher conditions for migrants.
Foreign workers cannot change jobs or leave Saudi Arabia without the permission of their sponsors, who are often Saudi companies or individuals who provide workers to businesses for profit.
Most of the sponsors take away the passports of the workers for the duration of their contract.
Human rights groups have criticized Saudi Arabia over the condition of migrant workers in the kingdom and called on Riyadh to abolish the sponsorship system for migrant workers.