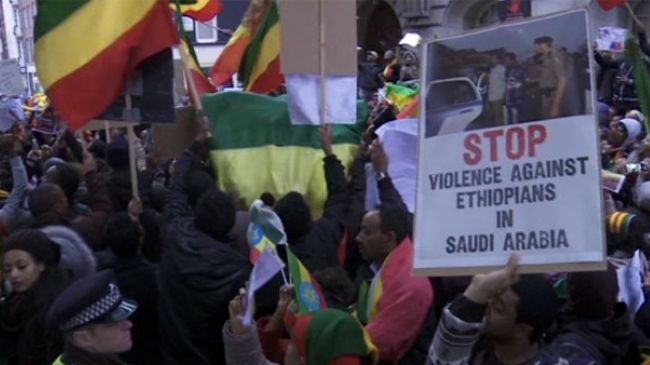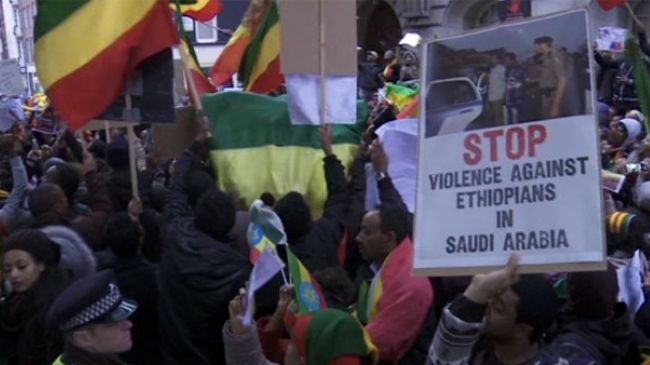 More than one thousand Ethiopians living in London have staged a protest outside the Saudi Embassy over the kingdom's treatment of migrant workers.
The protest was held on Monday amid a crackdown on illegal workers in Saudi Arabia, which has left five people dead recently. Over 20,000 foreign workers have surrendered to Saudi authorities in the past weeks.
Protesters called for the UK government to apply pressure on the Saudi authorities over the issue.
"The British government is in a position to put pressure on Saudi to stop this, but then who is going to sell them oil?" said one protester.
Saudi authorities launched a visa crackdown on undocumented foreign workers in early November, saying the move is designed to reduce the 12-percent unemployment rate among native Saudis.
However, the protesters argue that the nine million migrant workers, mostly Africans, perform menial jobs that native Saudis are unwilling to do.
Hundreds of thousands of workers have already left Saudi Arabia as a result of tough conditions considered for the immigrants.
Foreign workers cannot change jobs or leave Saudi Arabia without the permission of their sponsors, who are often Saudi companies or individuals providing workers to businesses for profit.
Most of the sponsors hold the passports of the workers for the duration of their contracts.
In October, Amnesty International censured Saudi authorities for not addressing the "dire human rights situation" in the country.
The group also handed in a paper to the United Nations, which included information regarding a "new wave of repression against civil society, which has taken place over the last two years."