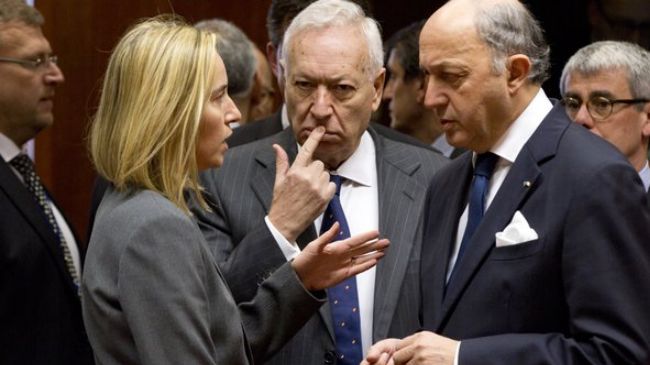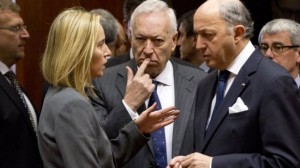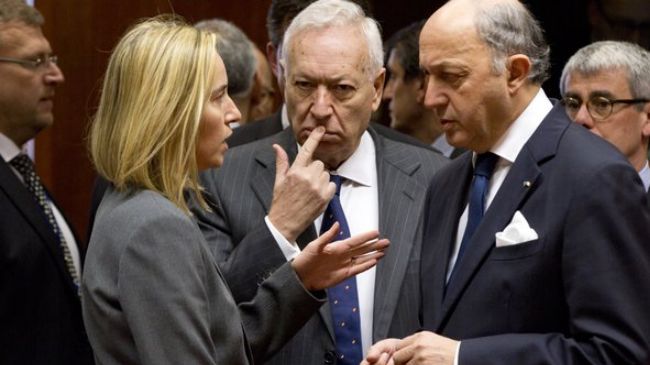 The European Union (EU) has called on Russia to pull its military forces back from Ukraine or risk consequences in its relations with the 28-nation bloc.
In a statement issued after an emergency meeting of EU foreign ministers in Brussels on Monday, the EU urged Moscow to do its best to "de-escalate" tensions in Ukraine.
"In the absence of de-escalating steps by Russia, the EU shall decide about consequences for bilateral relations between the EU and Russia, for instance suspending bilateral talks … on visa matters … and will consider further targeted measures," the statement said.
It also called on Moscow to start talks with new officials in Kiev immediately.
The meeting in Brussels came after Russian President Vladimir Putin deployed troops in Ukraine's Crimean peninsula.
"We need to see a return to barracks by those troops that have currently moved (from) where they have been staying," EU foreign policy chief Catherine Ashton said after the meeting.
"We want the situation to de-escalate to the position the troops had before this began," Ashton added.
Russia says it has sent troops to Crimea after the region's Prime Minister Sergey Aksyonov requested Moscow to help it establish peace and security.
In a telephone conversation with German Chancellor Angela Merkel on Sunday, Putin said Russia's measures are totally fitting as far as the "extraordinary situation" in Ukraine is concerned.
He also pointed out that "ultranationalists" pose a major threat to "Russian citizens and the entire Russian-speaking population" in Crimea.
Ukraine has been gripped by unrest since November 2013, when now-ousted president, Viktor Yanukovych, refrained from signing an Association Agreement with the European Union in favor of closer ties with Russia.